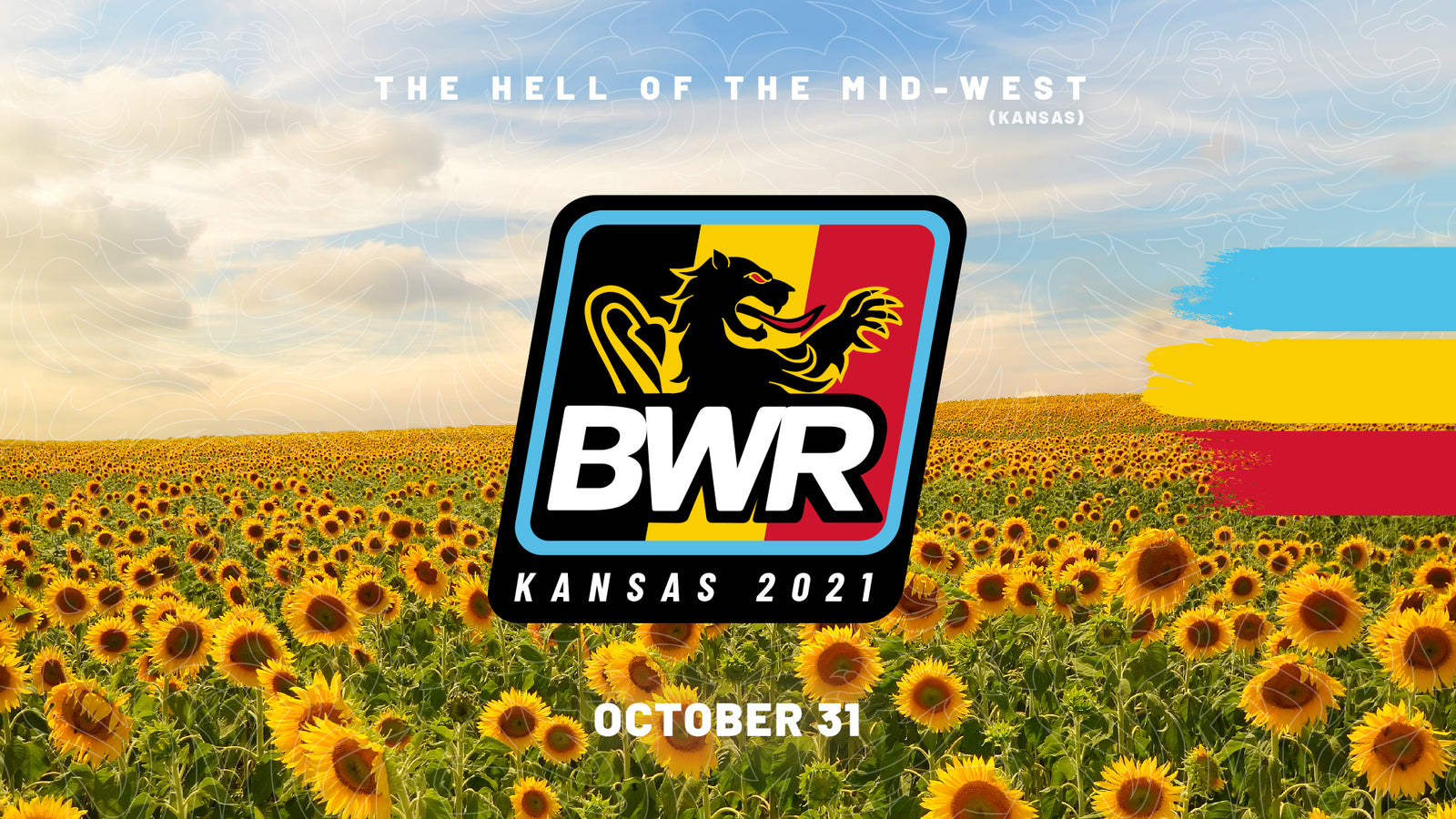 BELGIAN WAFFLE RIDE TO RAISE MONEY FOR THE STEVE TILFORD FOUNDATION
San Diego, CA // Lawrence, KS - (January 24, 2021) – Monuments of Cycling, a premier cycling events producer, has partnered with Sunflower Outdoor & Bike Shop to host the inaugural Belgian Waffle Ride (BWR) in Lawrence, Kansas for the Steve Tilford Foundation.
For the first time, Monuments of Cycling brings its iconic BWR to Kansas, where a vibrant cycling culture anxiously awaits this new spectacle, The Hell of the Mid-West, which will take place on Halloween. The BWR, which celebrates 10 years in 2021, will provide professional and amateur cyclists the opportunity to ride the most coveted roads, punctuated by dozens of off-road sectors over a 111- mile route throughout the northeast region of Kansas, giving the event its unique complexion.
Created as an extremely challenging race in the spirit of the great European one-day Spring Classics, BWR, with a Belgique theme, is truly a unique event. There will be three distances on offer in Lawrence, the longer Waffle event and the half-as-long Wafer event, plus a shorter Wanna event for those looking to get a taste of the fun without the training commitment of the Waffle or Wafer.
This inaugural BWR Kansas event, like the other BWR events in San Diego, Asheville, and Cedar City will have a deep field of professional riders and an expansive list of hungry amateur riders drawn to the unparalleled opportunity to race alongside their heroes, like World Tour rider, Peter Stetina, who won the 2019 San Diego edition and came in second to Keegan Swenson in the 2020 BWR Cedar City event. The BWR will be offering a prize purse to the top five riders, both female and male! Racers and event patrons will be treated to Belgian waffles, Belgian ales, muscles and frites, more waffles and more beer on race day.
As Steve Tilford would have wanted it, the Waffle race promises plenty of punishment for entrants and their bicycles along its dynamic course, which features 8,000 feet of undulating climbs and 80-miles of off-road terrain that harken to the teeth-rattling cobblestones of Europe's most grueling races. This event promises to bring something special to Lawrence.
"Steve would have been so excited to see this event come Lawrence and highlight many of
his favorite road and trail systems," shared Joe Schmalz of the Steve Tilford Foundation. "This addition of BWR is guaranteed to encompass the spirit of Steve. He loved every discipline of cycling and how the sport can bring so many people from different backgrounds together in one place. I love nothing more than to see Steve's passion for the sport of cycling being showcased at a large-scale event here in Lawrence. In true Tilford Mantra, we hope this event can bring new riders and fans to the sport for years to come."
"As someone that's been around the gravel scene for a number of years, it's easy to recognize passionate people that love creating unique world-class experiences for racers and riders alike," shares Dan Hughes, Sunflower Outdoor & Bike Shop owner and four-time winner of the Dirty Kanza (Unbound). "The crew at Belgian Waffle Ride absolutely exude that vibe, and that's why we're excited to partner with them for BWR Lawrence. A good 'alt- surface' event should be equal parts suffering, vanquishing challenges, and doing it all for a worthy cause... and BWR Kansas has all those elements in abundance. I look forward to melding our gravel experience with the horsepower of BWR and seeing where it takes us not only for this year, but for years to come."
Prior to the event, there will be a special Steve Tilford Foundation HalloweenVIP Gala at Sunflower Outdoor & Bike Shop on Friday, October 29. This special event will offer a raffle for cycling fans in celebration of the life of Steve Tilford, the course revealed in detail, special race-related presentations riders won't want to miss, the pros interviewed, and cyclists will rub shoulders with all the celebrities on hand for the epic weekend.
On Saturday and Sunday, the Expo will take place in Lawrence, promising to be Kansas' coolest cycling party of the year! Expo festivities will kick off Saturday, October 30 and are open to the public. There will be a Halloween-inspired cyclocross event for riders to compete in and fans to enjoy, and the Belgian theme will be in full force with a host of other unique entertainment features. Attendees can peruse a wide range of offerings from event sponsors and over 40 vendors!
"We are so lucky to partner with our friends at the Steve Tilford Foundation and Sunflower, who will be hosting the event," said Michael Marckx, BWR creator. "Having known and raced with Steve, it is such a joy that we get to partner with the Foundation to support its mission to help young people of all backgrounds find and chase their passion through cycling. My grandfather grew up here and attended KU, so it's with great joy that we get to share this unique event with this special cycling community."
---
ABOUT MONUMENTS OF CYCLING
Monuments of Cycling is committed to delivering the most unique cycling events in the country, offering experiences for the most elite athletes on the planet as well as those in awe of them, through the creation of world class races that engage riders in myriad and unexpected ways. Our mission is to inspire riders of all stripes to reach, grow and aspire to new levels of fulfillment and joy, finding unusual ways to test their physical and mental fortitude. To learn more, visit www.MonumentsofCycling.com
ABOUT STEVE TILFORD FOUNDATION
The Steve Tilford Foundation is a 501(c)3 not-for-profit private foundation established to honor the life and legacy of Steve Tilford by paying forward his passion for cycling. The Steve Tilford Foundation is determined to help young people find and chase their passion in the sport of cycling by promoting education, mentorship, and access to quality cycling opportunities. Always guided by Steve Tilford's true spirit of dedication, teamwork and respect, the foundation works every day to improve lives and nurture healthy communities. For more info, visit stevetilfordfoundation.org
ABOUT SUNFLOWER OUTDOOR & BIKE SHOP
Sunflower Outdoor & Bike Shop, a locally owned and operated business, was established in 1972 to provide the surrounding community with high quality gear and clothing for outdoor adventures. Located in the heart of Downtown Lawrence, Sunflower Outdoor & Bike Shop is staffed by enthusiasts seven days a week and can be reached at (785) 843-5000 or on the web atsunfloweroutdoorandbike.com