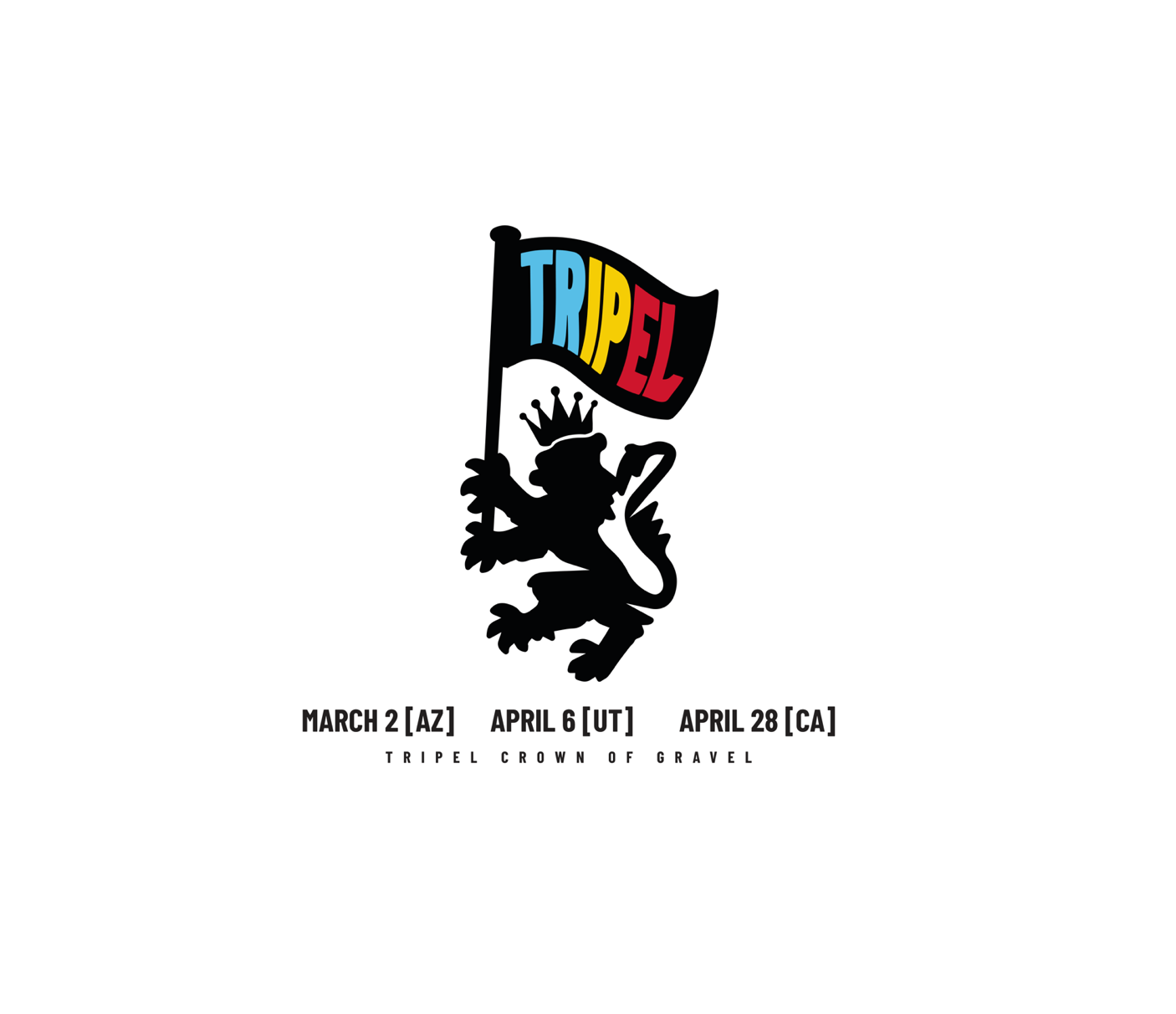 The Tripel Crown of Gravel Series Explained
Monuments of Cycling (MoC) is excited to deliver an entirely new approach to the Tripel Crown of Gravel Series, which will kick off the2024 Belgian Waffle Ride Series in full-blown Spring Classic mode, Americana style, with three grand events all taking place within seven weeks.
The Tripel Crown will feature the Second Annual BWR Arizona (March 2), the Fifth Annual BWR Utah (April 6), and culminate with the grandaddy of them all, the 13th Annual BWR California (April 28). 
The Tripel Crown of Gravel Series has been recreated to give riders, both professional and amateur alike, the chance to compete in three very different environments over a short period of time, offering the perfect blend between recovery and fitness gains for the early season competition. The Tripel Crown will be contested for both Waffle and Wafer distances in a points-based omnium format, for professionals and age-group riders alike. Riders competing for the Tripel Crown honors and prize purse (for pros only) will be scored based on the total points achieved over the three races. The BWR CA will carry extra weighted points to complete the series, which is being contested at North City in San Marcos, CA, April 28, 2024. There will be prize purses and prizes for the Male, Female, and Gender Diverse categories. Registration for the Tripel Crown and individuals events will open on Monday, October 16, 2023, at 8:00 a.m. PST. 
REGISTRATION PRICES -
WAFFLE (EARLY BIRD): $225
WAFER (EARLY BIRD): $225
WANNA (EARLY BIRD): $125
TRIPEL CROWN SERIES (WAFFLE/WAFER): $550 ($125 DISCOUNT)
Created as an extremely challenging race in the spirit of the great European one-day Spring Classics, the BWRs have now become known as the most unique cycling events in the world for their incredibly dynamic, multi-surface 'unroad' parcourses replete with single track, gravel, sand, rocks, gravel, water crossings, cyclocross features and even some asphalt. 
BELOW ARE THE DATES OF THE BWRS FOR 2024: 
Tripel Crown of Gravel 
·       Second Annual BWR AZ in Cave Creek, AZ on March 1 - 2, 2024 
·       Fifth Annual BWR UT in Cedar City on April 5 - 6, 2024 
·       13th Annual BWR CA in San Diego on April 27 - April 28, 2024 
Points System for the Tripel Crown
·       Ties will be determined by placing at BWR CA
·       Age group awards are determined by racer's age on 12/31/2024
·       Every rider who finishes below P25 receives 1 point
·       No switching between Waffle and Wafer during the series
·       In order to receive any Tripel Crown awards, a rider must FINISH all three events
REGISTRATION OPENS OCTOBER 16 8AM PST

Discounted entries for those registering for the three Tripel Crown events. There will also be prize money for the pros and awards for age groupers in both the Waffle and Wafer series. Everyone who completes the Tripel Crown series by finishing all three events will receive a very special commemorative Belgian badge of honor.