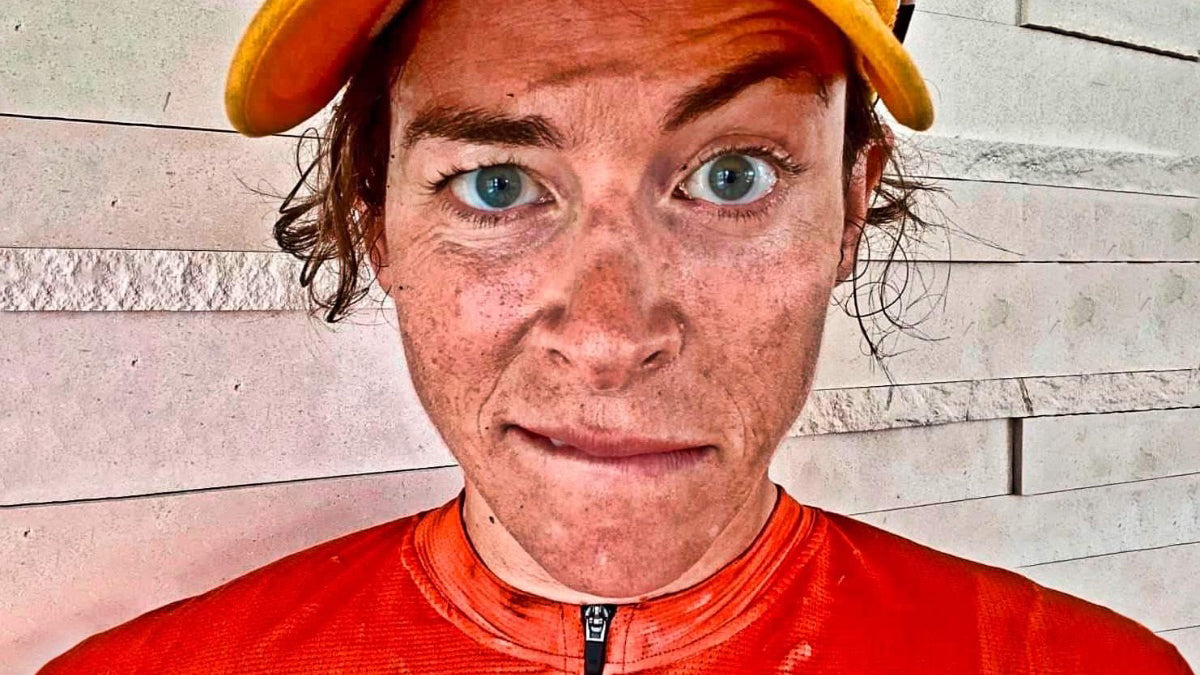 Call me Stan.  That's not my real name, but it's what everyone calls me.  I'm a 44 year old physician, entrepreneur, and mother of four school-aged children. I'm also the unlikely finisher of two Belgian Waffle Rides in 2021, most recently Cedar City
I've only been playing bikes for a little over a year now.  Before this I wasn't a cyclist or even an athlete. Shortly after moving from Canada and before the pandemic, I bought a bike trainer for fitness.  Then the pandemic forced us all inside and I began riding on Zwift. I found a virtual racing team, a coach, and yes, the biking nickname "Stan".  I bought my first real road bike in July 2020, and by October I decided my first real race would be in my own back yard: the Belgian Waffle Ride in San Diego.  Without a gravel bike and without a clue, I used Strava to find the best riders and routes in the area.  When I finally bought my gravel bike in December, I started showing up to Gravelstoke and Coureur group rides like the blind date who looks better in her picture than real life, throwing myself onto people's lines and following wheels to learn how to ride in dirt.  Balancing cycling with my work and family life meant countless hours of training before dawn and long weekend rides.  I trained through injuries, including a fracture.  I continued my strength training.  I heat acclimated. I learned more about bikes, and myself, than I ever thought possible. My reward?  A respectable finish in the top quarter of the ladies' field at BWR San Diego. I was hooked.
BWR Cedar City would be different than BWR San Diego. San Diego taught me I could finish the race.  Fueled by that personal victory, my goal for Cedar City was to improve on that performance. Knowing every feature of the terrain in San Diego was a tremendous asset, one I didn't yet have for Cedar City.  So for my birthday I signed up for the BWR Survival Camp p/b Source Endurance and headed to Utah a week early to acclimate myself to the altitude and learn the course features. In camp, I worked with fabulous coaches Adam Mills, Zach Allison, Whitney Allison (BWR CC winnaar!) and others for course reconnaissance and guidance on bike setup. It was so fun to ride with and learn from pros while laughing at near death experiences over questionable lines, routes and sand traps. It's known as my "cheating death" laugh and if you recognize it, you know not to choose my line!
On the day of the race, I was ready. Riding with pro women in a big pack was again a thrill, and a unique experience to BWR and gravel. I felt confident about the climbs and technical sections.  However, the women's field was small and I knew I would have to hide and draft as there were also long stretches with merciless wind and no shelter. The dust cloud from the bikes and vehicles permeated my eyes and lungs, giving a slight brown aura to the early morning sun. We chatted with each other and settled in, until the first dirt segment Ronde Van Rode Heuvels. The Wafer men were coming through. "We're going with them" Whit said to me as she started building up to match their speed. I knew this was the differentiation point and I too powered up.  But I lost a wheel.  And then another. And another. Then I was off the back. NO! This was the race. I knew it and panicked. For a brief moment I thought "you don't belong with them. What are you doing here? Who do you think you are?"  I gathered myself because I knew this course. The first major climb was approaching and I could catch back on there. I started chasing rabbits. One by one. By the time I crested the KOM I could see the lead group again. I knew this descent because I rode it twice during training camp.  My hopes dashed when I took an aggressive line around a rider who wouldn't let me pass.  My front wheel hit the sand and I plunged into a bush. I cursed myself and started wondering how long of a day this would end up being for me. I'm nothing if not persistent. Back on the bike.
I had plenty of water and nutrition so I skipped the first aid station and Rouleurs sprinted up the road to a group of men to haul me across the Rollers for Rouleurs gravel section. I had burned matches earlier and I needed some recovery. Into the double track of the second big climb was a slog in the sand. I was tired and sloppy. If I wanted the beach, I would have stayed home!  As I reached the top and pulled into the second aid station, I was relieved and revived at the sight of teammates that I had caught. A few high fives, laughter and fresh water and supplies lifted my spirits. Working together and giving pulls until the next climb brought me back to the racing mindset. 
I reached the top of the next  KOM Kombewaren in the hot midday sun, encouraging riders as I passed.  One shouted "Memories of when we met on Black Canyon, eh Stan?". A little crown appeared on my Wahoo and I grinned. QOM… yesterday!  Long rolling pavement sections turned into technical dirt. Riders were tired now, and knowing the lines through sand pits and crevices was to my advantage. I told people to follow my line and was rewarded with thanks on the other side. I was energized now,  filled with excitement at the prospect of improving my position on the road. I leap frogged group after group. Come with me! I grew impatient. The turn north into the headwind only made me more determined.  My rage earned me the second QOS segment. A small win on a long stretch alone. 
The final part of the race was punctuated by a technical mountain bike trail called the Tolweg. On my top tube sticker I wrote, "Don't hammer. SHRED." Over cow bridges and culverts, across rock gardens and serpentine descents, I released the strain in my body, rode fast and smooth, and sent every feature. All the energy given to this race returned to me in a flow state here. Pain and self-doubt left me. Invigorated, accomplished, I charged smoothly and strong to the finish line, bettering my goal time by 45 minutes. 
The finish line of the BWR is a sweet celebration with friends old and new, waffles, and beer. And dirt. Covering every part of my body.  A testament to my achievement.  Surviving the 130 miles of BWR Cedar City was made possible by countless hours of training. Yet preparing for BWR in the first place required a monumental shift outside of my "normal" life and comfort zone and allowed me to experience the ride as a journey through self-doubt, pain, laughter, encouragement, and discovery. I'm already registered for next year.