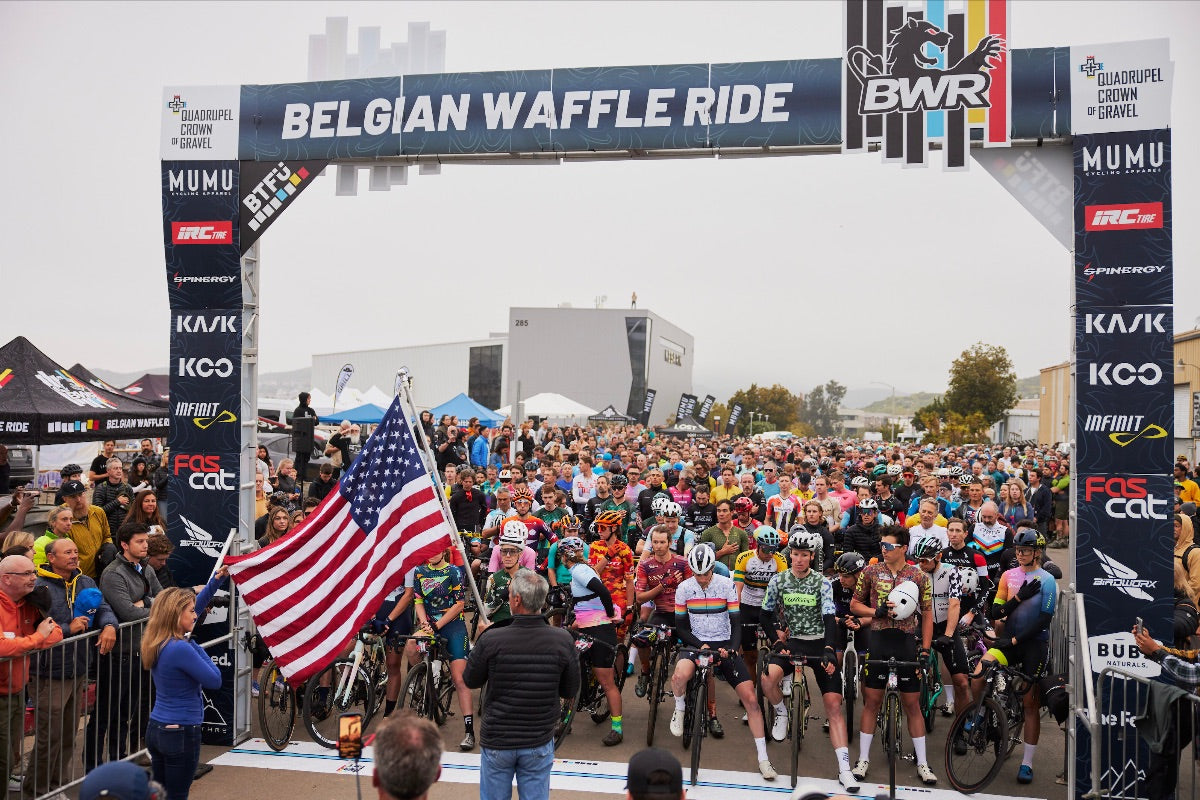 For the Hardman, Hardwoman, kUDOs and 'nspire happiness Awards we rely on fellow riders to share with us about special people who made the event even better. This year we got a note from 9th place Waffle finisher, Hannah Shell, who wrote this: "I rode with a stellar athlete today — Morgan Aguirre. She had her handlebars slip down on the first gravel section and rode the rest of the race with them at a horribly awkward angle. It didn't stop her from slaying on the dirt sections and riding strong on the climbs. On top of that she got a front flat that wouldn't seal and rode from aid station to aid station pumping her front tire and hoping it would be enough to make it to the next. I certainly wouldn't have caught up to her if she didn't have the flat issue, we rode together for a while and she didn't complain once. All of that and she still came in 9th and had a smile on her face the entire race." 
Below is Morgan's recap…
Morgan's 2023 BWR California Race Recap 
Having bought my first bike in 2019 you might say I'm still trying to learn the ins and outs of the cycling world. Going into BWR last year I was wildly unprepared. It was my first gravel race, on a borrowed bike and my goal was just to finish the race. However, when I surprised myself with 15th place I began to contemplate giving this whole gravel thing a serious try.
I decided this year I'd give this all a real go. Working now only part-time, I've carved out a chunk of my savings to fund some exciting 2023 gravel plans and you better believe going back to where it all began was top of the list!
Coming to BWR this year without a team or support was definitely a bit of a challenge. I can't say thank you enough to the people who responded to my silly questions about tires, nutrition and everything in between. After a hectic few days I was very ready for race day to finally arrive. 
And arrive it did; at 4:30 am sharp on Sunday morning. Upon finding a spot at the start line I quickly began regretting my pre-race bathroom break, as I ended up in a starting well behind the front of the race. So, going into the first climb I knew it would be a mad dash to move as far up as possible, as efficiently as possible; though, unfortunately I never did see the lead women. However, my spirits were immediately lifted when I saw Hannah Shell come cruising up the climb next to me. I thought "She looks badass, I'm going to follow her!" 
After the first gravel section Hannah introduced herself and mentioned "Did your handlebars slip?", at which point I finally realized why things were feeling particularly aero…*sigh*. I gave the bars a few good tugs to try to knock them into place, but realized pretty quickly they were stuck. I mulled over the options in my head – spend time sitting on the side of the road trying to unscrew and adjust my handlebars or as Belgian Waffle ride aficionados would say "BTFU". 
So glass half full it was – I was ultra aero! Off I went into the first technical part of Lake Hodges (my favorite part!) where I was able to get onto the dirt first and sail away with clearly little regard for my own life. It wasn't until after Raptor Ridge that I noticed my worst nightmare from earlier in the week came back to haunt me - a flat front tire. But no problem, I tried to tell myself because the BWR volunteers are incredible! Like clockwork at every single aid station, after the third, all I had to do was roll in yelling "PUMP" and someone would come to the rescue. Quickly back up to 50 PSI the tire went and off I would go. 
So sure, while my slipped handlebars and front tire struggles certainly weren't ideal, that's just part of the sport. It's part of what makes gravel such a wild, ridiculous and grand adventure. It's a bit of luck, a lot of planning and the ability to look at the glass half full and stay positive. Gravel racing is sort of like that life analogy about a box of chocolates - you just never know what you're going to get. But what you do know is everyone else is out there dealing with their own chocolates and more than half the battle is staying focused on your own box and making the damn most of it.
BWR California is a heck of a race because it really does give you a little bit of everything, from flying around single track to digging deep up road climbs. I was very happy to come in 9th and stoked to get to hang out in the top 10 with a field of hitters. Looking forward to seeing where I can take this gravel thing and you better believe I'll be back next year for the podium! Thanks to all the BWR staff and volunteers for an incredible event - I literally would not have finished without you. 
The 'NSPIRE HAPPINESS AWARD is our opportunity to honor someone who exhibits the ethos of 'nspire happiness - through their words and actions in and around each BWR venue - with an emphasis on celebrating locals in each region who truly make a difference to the community. And this time around we had Canyon's Coureur Cycling Team volunteer to run the infamous Oasis Feed Zone at Questhaven. And Tiger You went above and beyond to make this event awesome for all the riders with the help of these wonderful Coureurs, Stephanie Shaw, Mary Green, Kevin Smidt, Ralphie Nelson, Kelly Broton, Dave Callender, Wei Sun, Cathy Wagner, Sasha Shirk, Dan Hedstrom, Todd Smith, Lisa Auslander, Jelger Kalmijn, Jackie Reseigne, Frank Sterns, Debbie Benton, Lauren Diaz, Kelly Rigg, Ronan Rigg, Marco Terenghi, Casimir Bamberger, Ida Bamberger, Niklas Bamberger, Jane Hull, Gideon Hull, Dorian Reyes, Michael Ang, Hillary Devrome, and Dylan Skene.
TIGER YOU - 'NSPIRE HAPPINESS

As for what I did, I drove the U-Haul to the aid station at 5:30am and coordinated the station setup with Mary. With the help of the morning shift, we had the area up and decorated with plenty of time before the first riders rolled through. Mary and Stephanie brought the decorations, and we gave it a tropical theme with palm trees, flamingoes, and flowers. Everyone loved it, we even had riders stop and take pictures with our inflatable flamingo! 
 
Throughout the day we kept it loud and fun! Todd brought a giant speaker and Kelly brought the tunes. We had bubble guns going and made sure to have the cowbells ringing for every rider that came through from the first wave all the way until 7pm. I was having such a blast I decided to stay the whole time for all three shifts.  
 
For those riders that wanted to go fast, we had bottle handoffs, Coke can handoffs, and gel handoffs going for most of the day. For those who needed a break, we had plenty of food and drink (including tequila!) and words of encouragement. During the early afternoon, we ran out of bananas and pickles and Mary went out of her way to go to a store to pick up more, and the riders definitely appreciated that. When the second and third shifts came in I gave them the orientation on how the station worked and the transition went smoothly.  
 
All the volunteers did a great job keeping the station stocked, tidy, and clean. We had the genius idea to make food spread trays with a little bit of everything (like flight attendants) to get riders what they need quickly as they crossed the gate to not clog up the lines at the tables. At the end, Dorian and Marco walked all the way up and down Questhaven to pick up any trash that was tossed and we kept the station up until 7pm to make sure all riders were accounted for. Kevin led the cleanup, and his organization made it quick and easy. I drove the U-Haul back at around 7:15pm after what we thought was the last group of riders, but as I was driving back I saw one last Waffler coming up Questhaven and I made sure he had everything he needed from the truck. I returned the truck to the expo just in time to see you and cheer on the last few riders that rolled in.  
 
I had multiple riders tell me the Oasis was the best stop of the day with our hospitality and party vibes, and I cannot thank the whole volunteer crew enough for making it that way. I had a great time and seeing everyone out there definitely makes me want to ride it next year (perhaps with the help of Canyon lending me a bike??)
To learn more about 'nspire happiness, visit them here: https://nspirehappiness.com