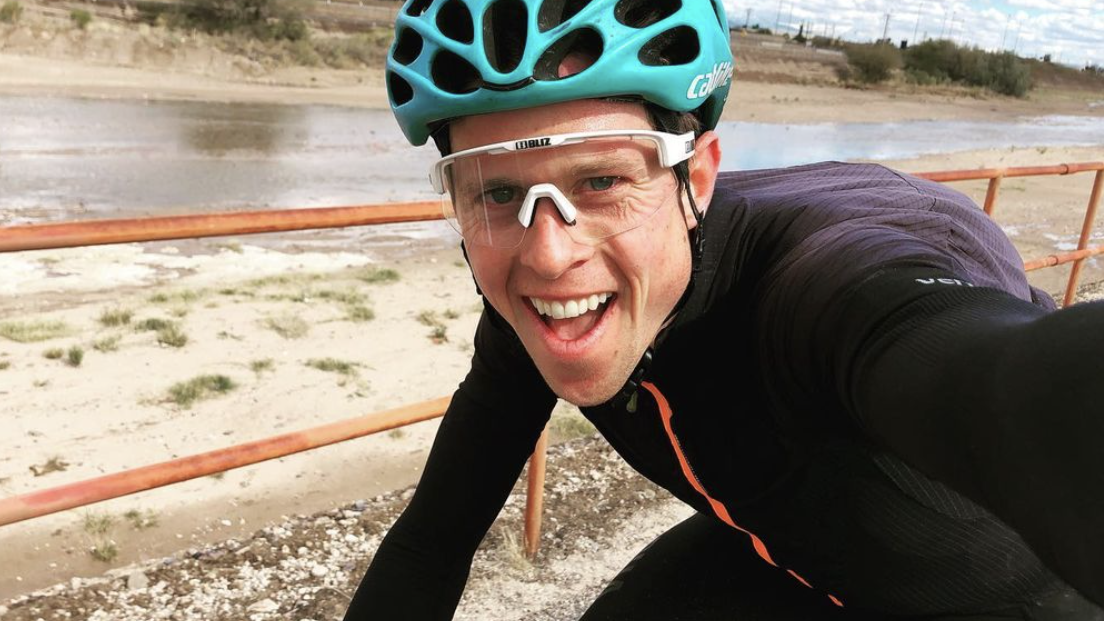 GRIFFIN EASTER - HARMAN AWARD
Griffin Easter is often quite content to let his legs and lungs do the talking, but if you are lucky enough to share actual words with him you find out he's a polite, positive, passionate and philanthropic. In fact, Griffin combines these attributes and a few more and channels them though the prism of cycling for a noble cause, OpiCure Foundation (@opicurefoundation), which he founded with his brother, Cullen. Together, with a strong team of advocates, they use cycling as an onramp to recovery for addicts.


OpiCure Foundation is committed to bringing awareness of opioid addiction, redefining best practices for recovery and devoting resources to affect positive change in the Utah community and beyond. At OpiCure, they want to help foster the unique cycling community that exists in Utah and beyond, coupled with a message of hope and inspiration. They believe, and we do too, that they can create a gravel opioid awareness squad in a unique and purpose-driven way; a gravel team that not only supports and promotes its mission of education and awareness on the bike but encourages and provides for its most vulnerable members of the community.


But OpiCure is not why Griffin has won the Hardman award. He's won it because, as Pete Stetina proclaimed, Griffin was the stronger man of the day, and had it not been for an unfortunate flat near the end on The Tolweg (who puts sectors like this in a gravel race?), Griffin would have won the race! Still, bad luck doesn't make a Hardman Winnaar. No, but what does is the ability to take adversity head-on and trample it. In this case, with precious few miles left in the race after flatting, Griffin still managed to chase back time on Pete and finish very close behind... reeling Pete in over the final 10km. But really, the hallmarks of a Hardperson, have to do with the Belgian approach to doing work. Sometimes that work is so emphatic and so protracted, it can slowly, painstakingly demoralize and otherwise dispense of some, if not all, who cling to his wheel when he adorns the Hardman ethic.
Specifically, Griffin adopted this posture on one very long, yet seemingly innocuous sector of the race called Nieuwe Harmonie Grind. where Griffin rode the front in the lead up to and throughout the entirety of the sector and obliterated the lead group down to just five others... all of whom, besides Pete, would be left behind on the final, brutal Muur van Kanarraberg. That effort had HARD written all over it. Belgian HARD.
NIKKI PETERSON - HARWOMAN AWARD
Last year, we held the BWR Utah in October because of Covid. The month before we held a Survivor's Camp with Source Endurance, where Nikki was a coach helping those at the camp to prepare both mentally and physically for the challenges that are unique to the Cedar City venue. An avid Mountain Biker and Graveleur, Nikki shared her positivity and riding acumen freely with those in attendance. She was a delight to be around.
After the camp, she felt confident and was riding the best she'd ever been when tragedy struck. Well, actually, a car struck her and left her mangled, not sure she'd ride again - though in her mind she always knows she's coming back. She's a survivor and 'thriver.'
The next year would be a challenge for Nikki, who is a program coordinator with NICA on top of her coaching and racing endeavors. She had a very long road to recovery and it just so happened that exactly a year later Nikki would be toeing the line at the BWR Utah, the race she had to miss last year after getting hit by the car.
This is how Nikki shared here story on Instagram!
Today marks one year since I got hit by a truck. Yesterday, to celebrate having a capable body, I got to race my bike for 129 miles at the @belgianwaffleride in Cedar City and finished 10th!
I wasn't sure I was going to race because I got a head cold on Tuesday-ish and was feeling awful. After a phone call with @rosekgrant on Friday morning, I decided that I was okay with making the decision to not race. As soon as I became okay with that, literally within hours, my cough went away and I turned a corner. I talked with my @sourceendurance coach @the_adam_mills and decided to make the decision day of. I also shared my location with @aabelmills so she could be my lifeline if I felt terrible. One thing I have learned this year is that when I remove expectations, I tend to ride really well. Who would have thought? 😅
I ended up feeling GREAT! I could tell right away that I was going to have a good day. The women had their own start and it was great getting to chat and warm-up together during the neutral start. Once the Wafer men caught us, I settled in and did some work motivating people to get in groups, especially knowing wind would play a factor (yes, I am slowly learning how to ride in groups lol). I got to ride with @sarahmkaufmann for a lot of the day, I traded pulls with @sarahbjarvisfor some miles, found Sten Kramer, and ate a lot of cookies at the aid stations!
The day went by quickly and I tried my best to be grateful for every pedal stroke. I love racing my bike and these events always leave me feeling so full. Thank you @ibemmx , @philychzstk, @tracky265, and all the other folks involved with the BWR for putting on the raddest events out there. 💕