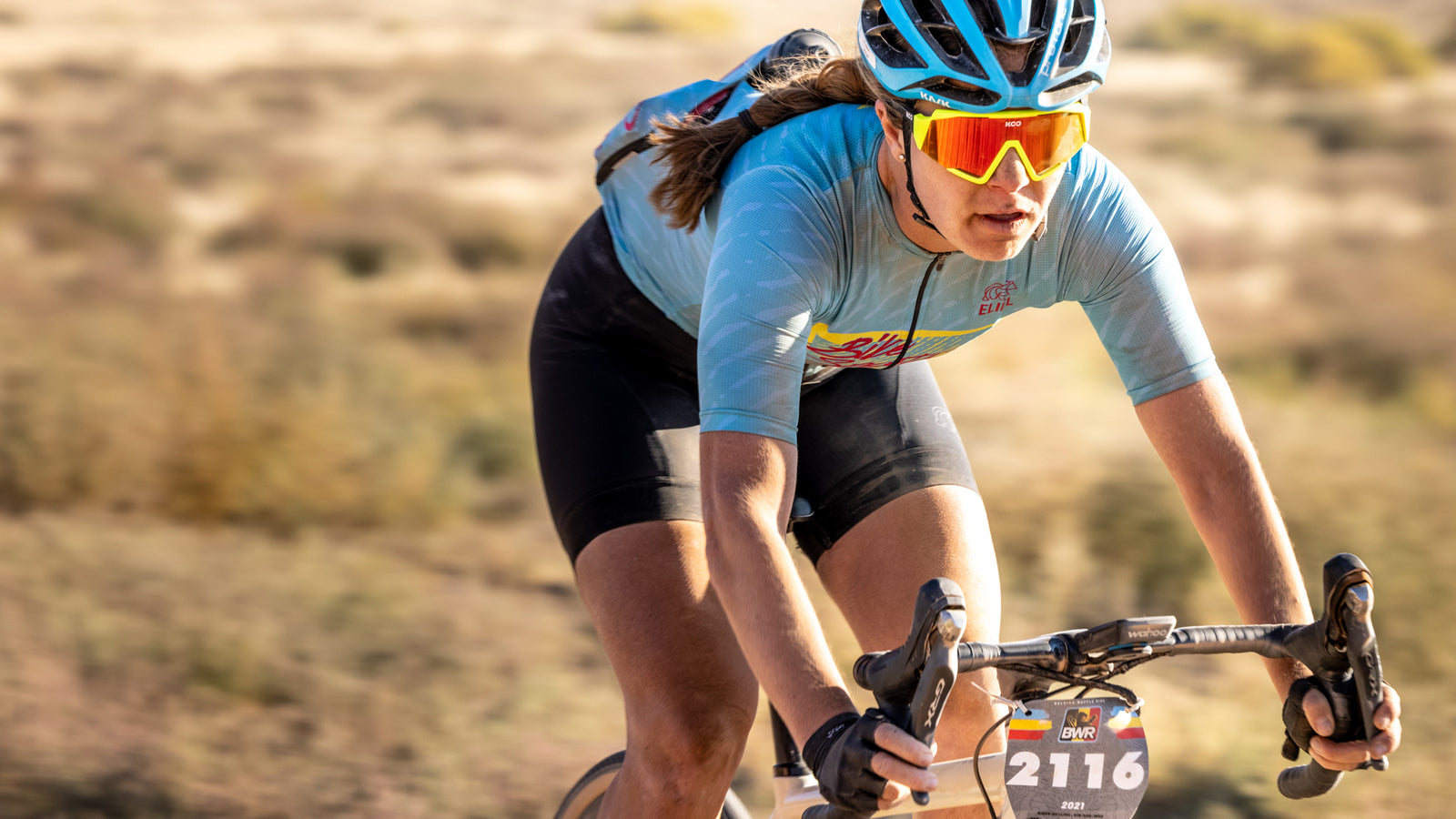 Whitney raced professionally on the road from 2013 to 2019 for Colavita Pro Cycling Team and Hagens Berman Supermint Pro Cycling Team. This past year was a transition for her to gravel racing. Whitney thrives in creation and processes and puts her talents into myriad enterprises. Her primary focus is Bike Sports, which she co-founded with her husband, Zack, which includes a gravel bike racing team, multi-day adventure style gravel bike experiences, and a bike fit studio in Old Town Fort Collins. She is also an event promoter of FoCo Fondo, a one-day gravel cycling festival from New Belgium Brewing. Additionally, she is a talented coach AND the marketing manager for Source Endurance, the BWR's Official Coaching Partner. In the community, she also serves on the Bicycle Advisory Committee for the City of Fort Collins and is working in leadership again for the Fort Follies, a women's cycling group which she co-founded in 2012. This is her first BWR victory!
Whitney's Race Recap:

BWR Utah had several key features to consider for the women's race: several unique technical sections over 129-miles, altitude, a separate start about 5-minutes back from the men's Waffle race and about 5-minutes ahead of the shorter Wafer race field.
The first key section was about 20-miles in featuring a 4-ish mile climb and a technical, loose descent that would not be ideal in a group. I had plans to keep the pace pinned through there if the women hit it together, however, about a mile before the turn off for the climb, the lead Wafer men caught us, which meant it was time to keep a good position as close to the front as possible. It paid off and I made it over in a Top 10 position between the two groups. 
A quick chase back on before the left on to the ATV trail meant that Heidi Franz, Lindsay Goldman and I were the women's leaders on the road. An untimely flat left Heidi to fend for herself, and Lindsay and I were alone for a while after the Wafer split off, occasionally catching weary men Wafflers, either exchanging pulls or offering a draft to them. 
Lindsay and I were teammates in 2013, 2014, 2018, and 2019, so we know each other's riding style. We became disconnected at about 55-miles up the long dragging QOM of KOMbewaren. I was feeling confident I would be able to hold that pace for the rest of the race, as long as I could stay on top of hydration and nutrition. 
With women starting behind the Waffle men, it was really shocking how few people you see all day and usually in some of their darkest moments... even if we just exchanged a quick "g'job!" or a momentary draft, it's full of mutual respect. Joy was in the lead ATV offering occasional time splits and I was a bit stressed as 3-8th women had unsurprisingly organized and with all that fire power, I knew there was nothing I could do but see this hand play out. 
I'm not a particularly technical rider and have been really having to push myself in this area, however, I knew that flatting or crashing would really dig into the several minute gap I had built up at this point. I made it through the southern portion and was really starting to crack knowing that "the climb" was coming up. I like climbing in general but it was so painful. Even then, not as painful as the descent after, where I don't think I could see straight. After chugging a coke at the Feed Zone, I bumbled through the single track. There was a guy on a MTB who rode behind me the whole time never wanting to pass and never saying a word... I'm convinced he was there in case I totally 'endoed' myself off a cliff. I made it out cleanly and had fortunately seen those last few miles so I knew that there was only a little bit of hard stuff left. 
I was at a loss for words and so relieved to make it across the finish line, as it was a pretty big gamble back at mile 55-ish. I'm very grateful to have had a clean race with, and absence of bad luck, and a field full of badass women to keep me driven all day.
CLICK THE PICTURE BELOW TO READ ABOUT WHITNEY'S POWER ANALYSIS OF HER RACE.
Whitney Allison had a breakthrough ride at Belgian Waffle Ride Utah, winning the climbing jersey, the sprint jersey and the women's overall race. Click this picture for a power analysis of her race winning file.