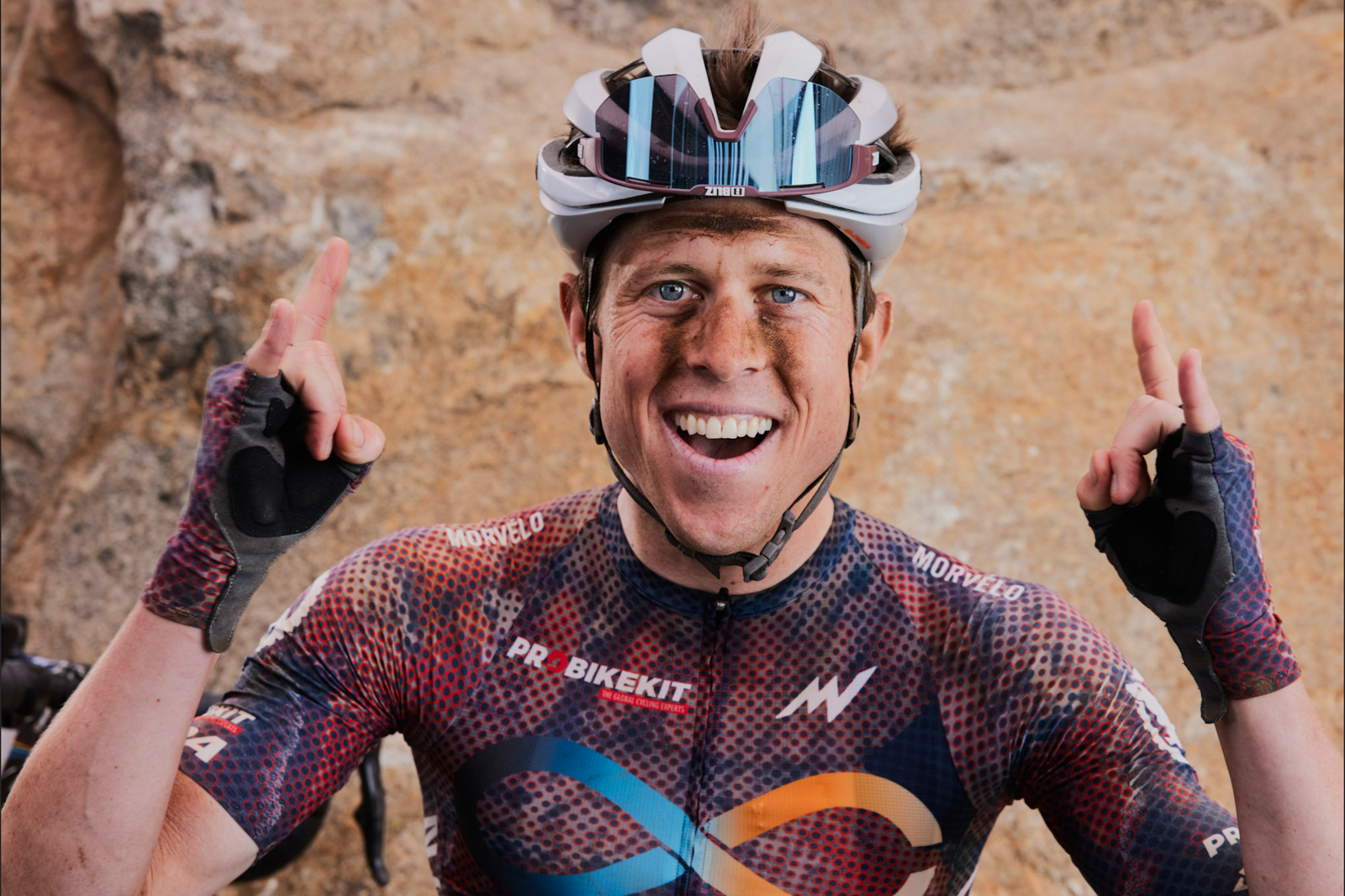 GRIFFIN AND HIS BROTHER, CULLEN, RUN THE OPICURE FOUNDATION, WHICH IS DEDICATED TO BRINGING AWARENESS OF OPIOID ADDICTION, REDEFINING BEST PRACTICES FOR RECOVERY AND DEVOTING RESOURCES TO AFFECT POSITIVE CHANGE IN THE UTAH COMMUNITY AND BEYOND. THE BWR HAS PARTNERED WITH OPICURE FOR ALL THE EVENTS THIS YEAR. WE HAVE OUR FIRST OPICURE STORY OF THE YEAR WITH LUCIE KAYSER-BRIL, WHO COMPLETED THE WAFFLE. HER STORY IS BELOW GRIFFIN'S...

Griffin Easter
3rd Place
I didn't know what to expect when I lined up for BWR California. I participated in two BWR Cedar City editions, but never the OG Hell of the West. In early March I suffered a concussion after crashing in training which shut things down for roughly 3 weeks. I still had good preparations before the race, but it was a small window to find the speed again. My course recon was the last dirt sector and part of Double Peak. Suffice to say, I had yet to see the meat and potatoes of the 137-mile monument.
One thing I did know, I was representing the OpiCure Foundation p/b Orange Seal Gravel Team. We have a very special partnership with BWR as their official national charity. We as well as Monuments of Cycling believe the bicycle and gravel community can act as a tool for those in recovery from opioid use disorder. We are in the Quadruple Crown and this marked race #1. Stoke levels were high.
I had many highlights on race day, one was before and another was after the race. Before the start, the national anthem started playing on the speakers. Then suddenly cut out. A small silence followed. But then one person began singing the words, and another in tow and another after that. I joined in and I could feel the mass of the 2000 Waffle riders grouped together connecting before taking to battle. It was memorable.
After the race, I watched as Lucie Kayser-Bril, our first sponsored rider in recovery from opioid use disorder, crossed The Waffle finish line and was immediately enveloped by her kids that had been anxiously awaiting her arrival. She is such an inspiration and seeing how the bicycle positively affects not just her but her family brought tears to the eyes.
But let's dig into the race action. Here are a few other memorable moments...
VERSTANDSVERBIJSTERING
I did not have good legs, flashes of the 2017 La Vuelta a Colombia started going through my mind. I questioned how the rest of the day would pan out. Is this how hard it's going to be all day? Matt Beers South African National Marathon MTB Champion was on the front setting a blistering pace. I managed to just hang on the front group and entered into DUBBELBERG TWISTENWEG OMGEKEERDE.
LEMONTWISTENBERG
Traffic cones, a u-turn in the distance and riders getting antsy. My gut told me I needed to move up. Right before we flipped the u-turn I made an acceleration and slotted into 3rd or so position. Exiting the turn we immediately entered the dirt. That dirt sector proved a big selection. There was dust, rocks, descents, rollers, screaming fans, and a legitimate mountain biking trail which bottle necked to a complete stop. The selections were beginning and we hadn't even reached halfway.
ZWARTENBERG KORT
This was where the race entered into the business end. I'd guess we were roughly ten riders leading into this climb and sector. Alexey Vermeulen took to the front and all hell broke loose. As well as bikes, bones, teeth, legs and minds. The washboard terrain was unlike anything I've ever experienced. There was no fast or smooth line. There was only the unforgiving watt zapping washboard line. I don't remember much, but I do remember by the top of that climb and out the other end we were down to maybe six. Matt Beers, Alexey Vermeulen, Lance Haidet, Eric Brunner, Alex Howes, Peter Stetina and myself
SANDY BANDY
Two words, hold on. It was quite clear early on, Alexey Vermeulen was having very good day. He was fast on the flats and fast on the climbs. In this sector he was pummeling the dirt. I managed to be there but the legs were far from a hero day. We came to a road block at the end, dismounted, ducked underneath and back onto pavement.
BANDYWEG
Where the race was won. Alexey mounted up and by the time we all got through the gate he was floating away on the treacherous wall that awaited. I couldn't make that move. So I hunkered in and kept things steady. We were three: Matt Beers, Eric Brunner and myself. Alex Howes bridged across to Alexey.
MUUR VAN DUBBELBERG
By this point I was with rider Matt Beers. We had split from Eric Brunner in the lower slopes. Race support was saying Alex Howes was only 1 minute up the road. Neither of us had attacking level energy so we agreed to keep it steady all the way up. We could see Howes in the distance. Beers and I entered DUBBELBERG TWISTENWEG he taking the lead. We stayed together throughout and finally exited back to descend what we started our day on. As we entered on the the descent we made contact with Alex Howes. We were now 2nd, 3rd and 4th on the road.
OPWINDEN
I did not do my homework. The finish was not your traditional road race finish. We turned right onto the starting corral and quickly took a left downhill towards the Expo. Barriers narrowed and the order was Matt Beers, myself and Alex Howes. Turn, twist, left, right, finish line!
I managed to hold onto third finishing in the same time as 2nd. We both crossed the line and immediately grinned and fist bumped, with copious amounts of dirt covering our faces. We had finished our first BWR California and had a hell of a good time doing it.
EN FIN
I want to say thank you to BWR for putting on an incredible event. This had long been a bucket list race and I am so honored to say I've survived the Hell of the West. The stoke is still coursing and I cannot wait to ship out for BWR North Carolina. Thank you to all our partners for believing in the OpiCure Foundation mission. We couldn't be here without you all. With that, I'm off to bed!