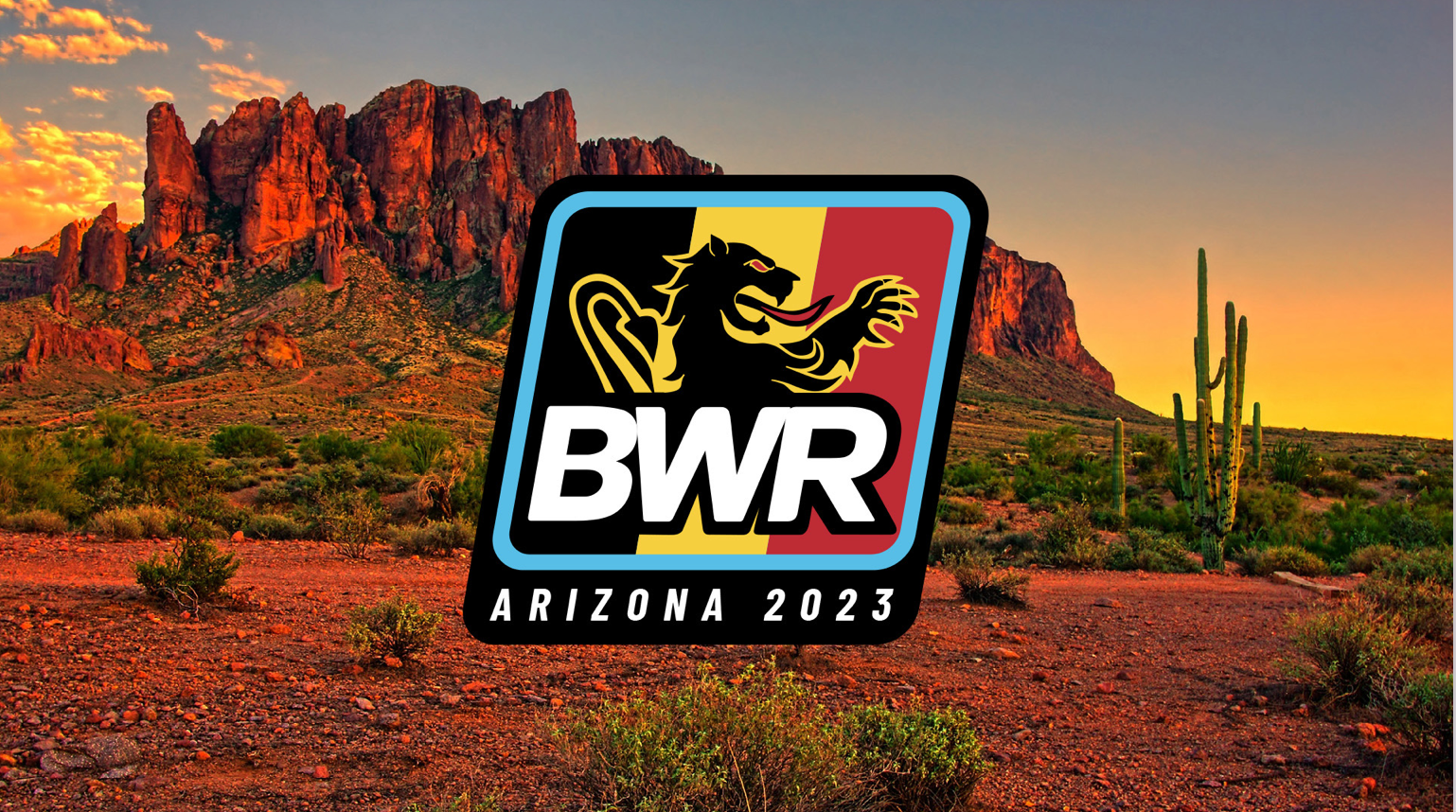 BWR ARIZONA RECAPS
Anna Yamauchi and Peter Stetina share their BWR AZ experiences!
BELGIAN WAFFLE RIDE ARIZONA
Recap by Anna Yamauchi - Second Place
BWR Arizona was no joke - this course certainly felt like more dirt than the advertised 50% "unroad." And the dirt, well, that wasn't "just dirt", it was loose, technical single-track for drop bar bikes, with flowy and fast descents. This course definitely required strong off-road skills, which would separate the field quite quickly once we got through the initial road section.
Going into the race I knew the women's field was stacked. I was excited to test my fitness, but truly had no expectation as to how I would do. From the few mass start races I've done, I knew I wanted to stay towards the front of the group and racing with the men always adds an interesting dynamic - it's hard to keep tabs on female competitors amongst a massive co-ed pack. I rolled out towards the front and found myself next to Hannah Shell, feeling some comfort being next to another girl. As the pace picked up on the first pitch of the climb, I settled into a decent sized group, and allowed myself to drift to the back of the pack, a few wheels behind Alexis Skarda and Sofia Gomez Villafane.
When we hit the dirt about 40 mins in, I eased up a bit, concerned about the miles left in the day. My stomach was churning. Those pre-race pancakes weren't sitting well after the hard effort at the start(should have had waffles). On the first section of downhill I tasted my breakfast a second time, sending chunks to the cactus and intercepting bits with my shin. Not the way you want to start a long day.…
I was much more content once I settled into the long descent and found my flow in moto land. My MTB skills were coming in handy as I was sliding around loose corners, pumping the whoops, and playfully dodging puddles. The few men behind me were happy to let me do my thing and lead the way. My stomach was settling down and feeling better. Over the next 30-miles I rode my way back to Sophia and Alexis, who were the top two women, gaining contact as we entered the McDowell trails. I'm still quite new to this sport of bike racing, so I was pretty stoked and quite shocked to be riding with these two legends and at this point, I was feeling strong. The three of us rode together through miles of singletrack - the same trails that I'll race this coming weekend at Cactus Cup.
We hit the pavement and stayed as a trio with men hopping in and out of our pack. With 40 miles to go, Sofia put in a big attack. I hesitated for a second, not quite sure what was happening, and when I jumped, it was too late. I made up a little ground, and then sat up thinking "what the hell is my plan" already feeling quite spent from the day. Alexis and I started chasing from behind, but the gap quickly grew.
A couple miles down the road, I took a quick roadside pee break (thank god for my flyfree velocio bibs ) while Alexis lubed her chain. We hopped back onto our bikes and chased hard to get into a group of men who had just flown by, but that effort left me spent. I fell off the pack and with 25-miles to go, and found myself solo for the last gentle road climb. I shoved some nutrition down hoping to revive myself, and then settled into a steady pace, giving it all I had. I was in a battle to hold onto the last podium step - I'd be stoked with a 3rd place finish in this field of talented women.
As I was reaching the end of the climb, I saw a rider in the distance. After a little while, I picked out Alexis' pink bar tape and realized the battle for second wasn't over. By the time we hit the techy single track descent, I was just seconds behind. At the end of the loose chute, I was on her wheel and navigated around her in the wash at the bottom. Hitting the same dirt climb we rode earlier in the day, I slowly opened up a gap.
The final 10-miles were spent head down, hiding from the head wind besides a little wave to Izzy king as we crossed paths on the road heading different directions :) In the punchy neighborhood climbs I would check my shoulder around every corner, expecting Alexis to ride up from behind at any moment. As I hit the last corner, I finally let down my guard, letting the accomplishment sink in. It was such an amazing experience to race with these two incredible icons in the sport, learn from their approach, and absorb some of their race tactics.
BELGIAN WAFFLE RIDE ARIZONA
Recap by Pete Stetina - Fourth Place

The Arizonan edition of BWR is perhaps the most rugged they've ever created. I've now done a slew of them across the country. And while they all follow a similar template of connecting dirt options via extended pavement miles, they all differ wildly due to their relying on local route builders who have an intimate knowledge of their home terrain. All these routes fall within the spectrum of Unroad but beyond that they vary wildly.

I'd brought the family down, the Stetina Twin's first road trip! Which is more romantic than it sounds (drive times extend by 30-50%) but our destination was my wife's parents condo in Scottsdale, so we could unpack all the gear and they could comfortably wiggle while I got some training and course recon in.

During those recon rides I realized this course was perhaps the most "mountain-biker" route I'd ever raced a gravel bike on. The Unroad sectors weren't dirt roads but were actually MTB purpose built trails, rugged sand washes, and chunky 4x4 roads. All housed under a postcard perfect sky of desert rock and cacti.

The field was STACKED, and everyone was eager to see who's done early season homework. I took the onus early and led the whole road climb to the high point at mile 15. It wasn't ideal but I knew my only chance was to create gaps early so it wasn't a dangerous conga line on the first descent. Maybe I would have enough buffer to be caught by the MTB specialists after the roughest stuff, and keep in front. Over the top it was just five of us: Keegan, Howard Grotts, Blevins, and an unknown Norwegian guy (Torbjorn Andre Roed) who looked really strong. I was struggling to hang on the DH but in one particular bumpy ravine I smacked my bike so hard I sent my shifting into crash mode: it stopped working in the biggest gear possible. Seconds lost became minutes as I fumbled with every trick I knew trailside, rider after rider passing by.
Eventually I got it functioning again and set off in pursuit. I made some friends along the way. Most notably I linked up with Floyd's of Leadville pro Cody Cupp in Motoland. Letting him lead the berms and jumps was faster, and oh so enjoyable. Unfortunately he would crash on a benign corner, but I would sub him for the company of Ryan Standish for the long pavement sector headed towards McDowell.

On the longest straights I could make out a group over 1.5 minutes ahead. I settled into a TT mindset and we actually made contact with that group right as we entered McDowell, and started another dragging climb. Only this wasn't the front; it was a chase group of around 10 guys, and while it housed Lance Haidet and Finsty, I could tell they weren't going the the pace I knew Keegan and Blevins would be up front. I decided the only option was not to catch my breath but rather go straight to the front and continue on in pursuit. Lance and Finsty followed and we made some inroads. Unfortunately for me, those 2 are some of the best descenders in the entire field! So my McDowell Park was a story of either pulling the climbs or gapped just off the back of them on the descents. Somehow and much to our surprise the lead quartet came into view. Finsty and Lance ripped the next descent, sliding corners with excellence, nearly grazing cholla cactus, and connected with them. I was 20 seconds back and the group must have gotten word, for they accelerated hard and the gap went back out over a minute-plus by the time we reached the longest road sector of the day.

I finally had something to help me though, we were beginning to pass wafer riders so when the leaders looked back they couldn't see me specifically. I think they settled into conservation mode and began to think about the finale. I continued my pursuit, and eventually made contact with about 30 miles remaining. They were all surprised to see me, and while I'm sure they weren't thrilled about another rider inserting themselves into the battle, there is a strong mutual respect amongst us and many of them pat me on the back with a "helluva chase man" and "respect".
The final is the most roadie-friendly section of the day; in my pre race plan, that's where I wanted to take a shot for glory, but I'd spent all my bullets over the preceding 80 miles solo and I was teetering between cramps and bonking. Nonetheless, I hit them a few times on the pavement when the miracle energy only a gel can provide would hit my system, but once we hit the final sandy wash I verbally told them I couldn't and wouldn't stand in their way and entered the dirt in last place.

Up ahead Keegan and Blevins would have a thrilling battle all the way to the final 200m, and dark horse Norwegian Torbjorn Andre Roed would have a breakout ride to 3rd. The final punchy neighborhood hits saw Lance, Finsty and I caught in an excruciating battle of kill or be killed. We all wanted the final podium places and that late in the day it was just about sprinting each hill and seeing whose lights flickered out faster. Lance eventually cracked and while I gapped Finsty on the final hill he wouldn't fully break and we excruciatingly drag raced all the way to the line with me just holding on by a few seconds for 4th.

By far the best part of my day came at the finish. My family was waiting for me in the shade of IRC's tent. As soon as my son saw me, he flashed his signature face-wide smile. Dad was home and ready to play. I tried to pick him up and introduce him to friends but almost fainted and promptly returned him to his car seat while I drank a few bottles of water. Dad duty would need to proceed recovery. Play time, I've learned, supersedes professional bodily care.
It was a great consolation prize to learn I'd won both the KOM and KOD categories. Showing, that despite my mechanical and loss of 2-minutes at mile-17, I'd had a strong ride chasing all day!
I've had a lot of success in BWRs and I credit these races for helping develop my gravel career and pushing me as a rider physically, tactically, and skillfully. While not the win I sometimes hope to achieve, I consider catching that group a victory. It shows my fitness is good for the races to come. It's a personal victory of mental stubbornness, and never giving up. Things rarely go right in a bike race and it's about how you react to the unexpected. There are stories and there are glories out there for every single rider, and I leave AZ with a great story and personal glory. I am massively happy to stand on the Arizona podium with these other four guys and cannot wait for the California edition next.
LET'S HEAR IT FOR OUR VOLUNTEERS!
The only way a crazy event like this can happen is with wonderful people who give of their time and souls to make it special for the riders. Let's celebrate these wondeful human beings who are nothng short of verbazingwekkend! DANK U!!!!!
AT CAFFEINE AND WATTS, THEY BELIEVE THE ENERGY WE EXPEND IN PURSUIT OF OUR GOALS COMES BACK TO US TWO-FOLD, SO THEY'RE STOKED YOU'RE HERE TO SHARE YOUR POWER WITH ALL OF US.