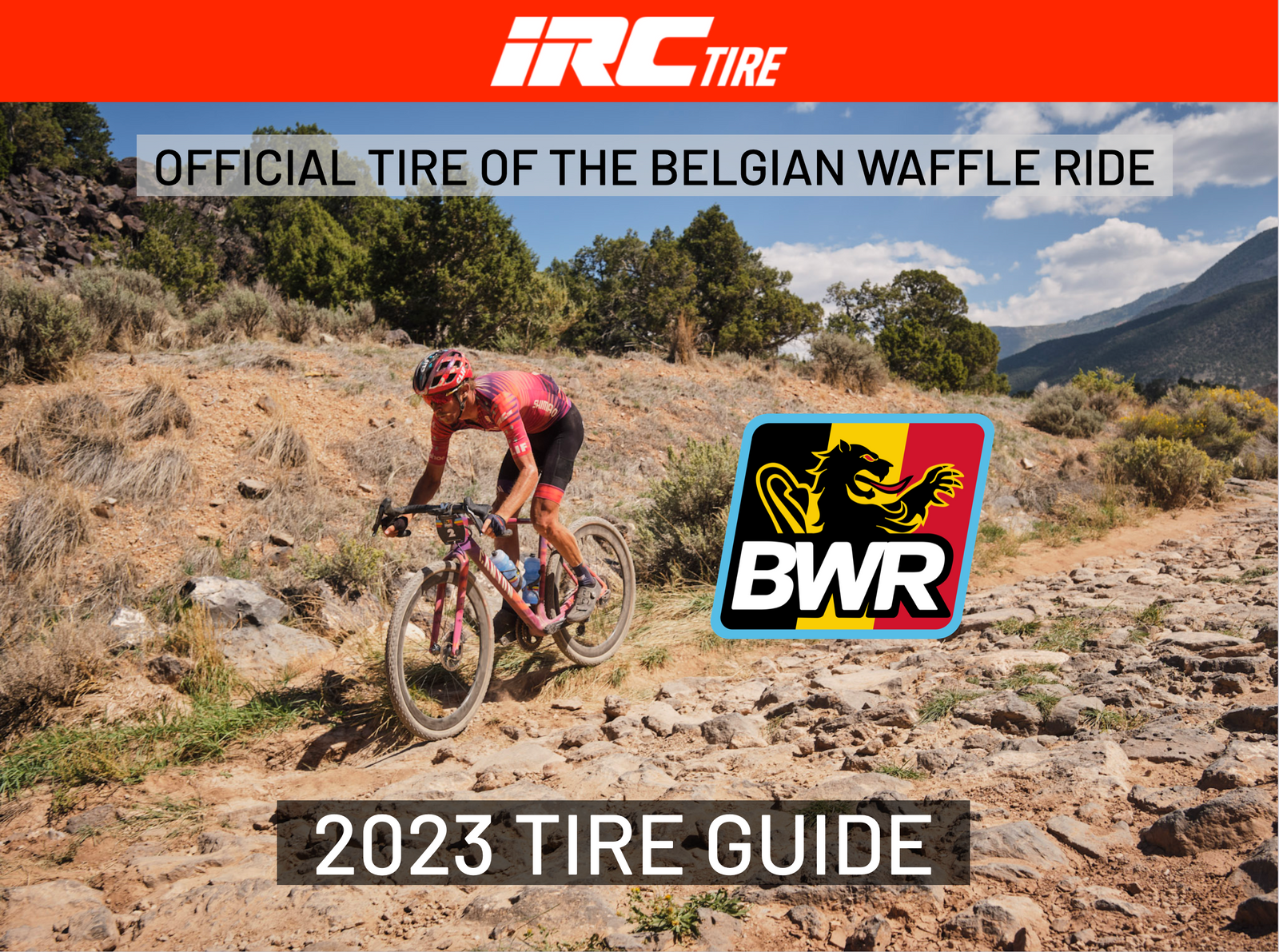 IRC Tire (Inoue Rubber Company) is pleased to announce an expanded partnership with Monuments of Cycling (MOC)'s iconic Belgian Waffle Ride (BWR). IRC will continue as the Official Tire of the growing series of BWR's 'Unroad Races', which are unique mixed-surface Classics-style events.
New for 2023, BWR is expanding to Scottsdale, AZ, Vancouver Island BC and Queretaro MX in addition to Asheville, NC; Cedar City, UT; Lawrence, KS and the original signature event in San Diego, CA. Long known as one of the country's most challenging events, each of these destinations provides its own unique terrain, each with its own set of tire challenges.
"No partner has been more enthusiastic and better activated around and through the BWR than IRC Tire. The energy they bring to our events, from the Survival Camps to the top of the final climb at San Diego's Double Peak on race day, IRC is always there to deliver on the promise of surprise and delight. Perhaps most important, because within the BWR there is no more important decision than which tire you choose to get you through the race. Getting as many riders as possible onto the wide variety of IRC Tire options ensures there is a greater chance that they will get to the finish without their tires ever being an issue. We can't think of a better partner to help us continue the momentum these events have generated and to get as many riders to the finish safely," said Michael Marckx, BWR creator.
In addition to the popular Boken and SeracCX tire families, IRC has introduced the more aggressive DoubleCross family of tires in widths from 33-42mm, ensuring riders will have their choice of the perfect tread pattern and width for every BWR course. And with IRC's Tubeless technology, they can worry less about flats, and more about the finish line.
"We are thrilled that IRC will continue to be part of the BWR and its expansion. The gravel market is one of the most progressive and exciting segments in the bicycle industry. Tires are so important in gravel riding and each type of terrain requires a different tire. IRC offers a great gravel tire range, and with our continued support of multi-winning BWR champion, Peter Stetina, IRC continues our commitment to supporting gravel athletes and events." said Hideo Oya, IRC Tire CEO.
As part of its partnership with BWR, IRC also sponsors the King and Queen of Dirt competition, which is awarded to the rider with the fastest cumulated time on three distinctive dirt sections of each of the BWR courses throughout North America.
"IRC has exciting plans for all the BWR events. We are really excited to return to the San Diego Double Peak Takeover" said Steve Driscoll, managing director of LiFT creative studios, IRC's creative and interactive agency of record. "With a DJ, rider Feed Zone and plenty of swag, IRC will be well prepared to cheer on the riders in their final climb."
For more information regarding IRC bicycle tires visit https://ircbike.com/?ref=bwr