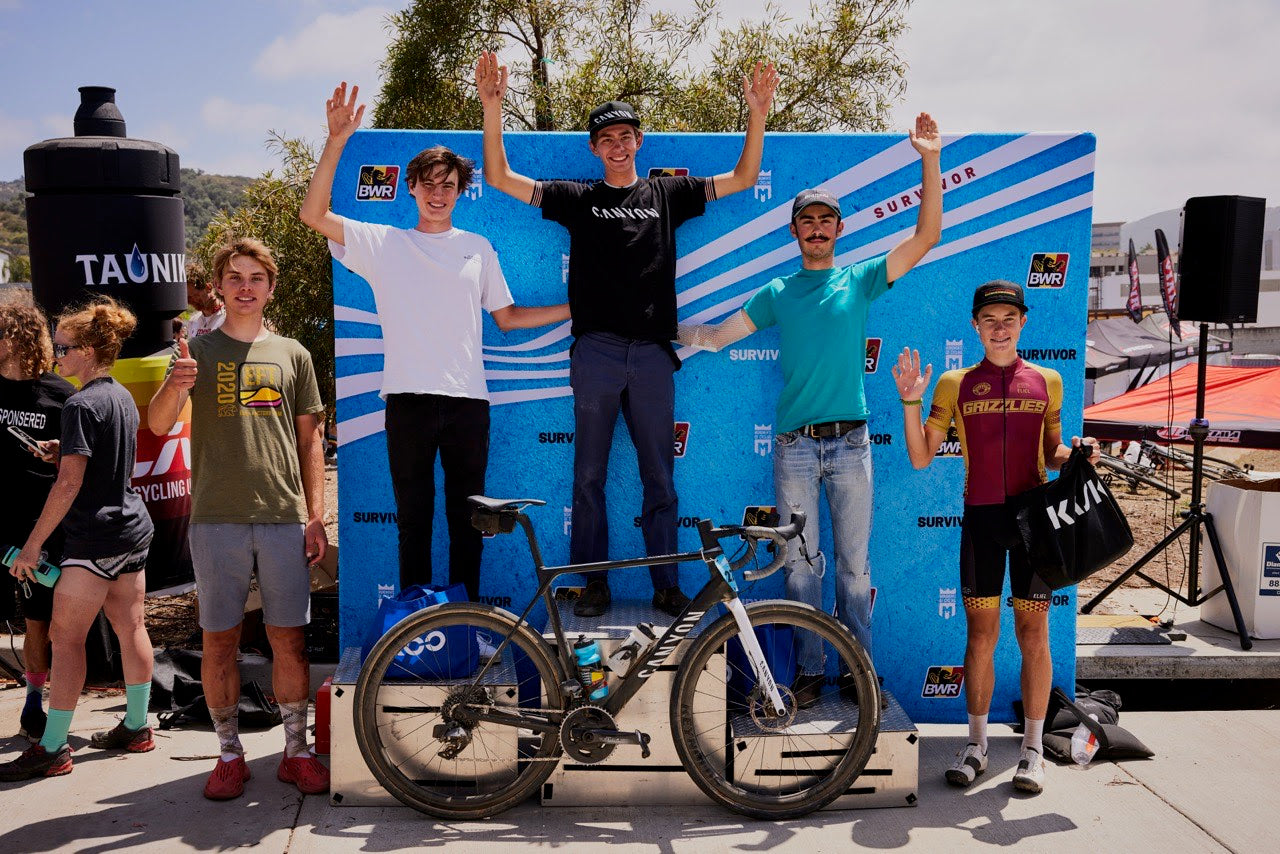 THIS YEAR WE TOOK GREAT PRIDE IN OFFERING THE JUNIORS THEIR OWN PRIE PURSE AND CALL-UPS FOR THE WAFER. THE JUNIOR CATEGORY IS SOMETHING WE WILL CHAMPION EVEN MORE IN THE COMING MONTHS AND YEARS.

HERE IS A RECAP FROM THE WINNER OF THE 18 AND UNDER CATEGORY - LUKE PANKRATZ
I raced the Wafer on Sunday and after crashing during a training ride a day prior to the race, I wasn't sure about how I'd feel or if I'd be prepared to race. The start was pretty relaxed with just a few bursty efforts, but separation really started to occur on Twin Oaks and the first gravel sector around Double Peak. I led into the first gravel sector as my legs were feeling better than expected and I wanted to control the race a bit.

By the time we got to the bottom of questhaven we had a lead group of 10 or so guys until we were caught by another 10-15 at the end of Del Dios right before Lemontwistenberg. I attacked into lemontwistenberg and led out everyone until the top of the dam climb, where Rob Britton set a super hard pace that nobody could go with.

Our lead group of 10 stayed together until Roofvogel Bergham, where separation occurred. Due to people making some mistakes, I had to get off and run three times which resulted in some chasing thereafter. I caught a group of 2-3 guys and we worked together to catch the lead chasing group of 2-3 guys that included Brian Scarborough. We caught them at the bottom of Bandy Canyon, where I, Scarborough, Ian Lopez and another u23 rider broke off and rode together until the bottom of Questhaven. The two set a pace I couldn't stick with and I set my own pace and remained in my 4th position until the finish line. Super stoked to get 4th overall and 1st in the 18 & Under category against some super strong riders! 
Well, my bike set up was dialed and my Canyon Ultimate was perfect for the course, which played a huge role in my result, for sure. The gravel sectors were pretty gnarly, and it being basically straight dirt from Lemontwistenberg to the end of the Bandy Canyon trail being on a comfortable set up on the unroad made a huge difference.

I don't think I have the best bike handling in the world, but I do think the fact that I had some skills which prevented a lot of mishaps and flat tires; mistakes took a lot of top contenders out of the race. Starting the race basically on Twin Oaks made it a lot more interesting, and it was cool how quickly we got a solid front group.

Rob Britton set a super hard pace up it from which I attacked at the very top to lead the first sector which ended up being a really good call, as I think a few guys crashed behind me and I was able to control the pace after a hard effort. Leading lemontwistenberg was also a super good call for me as I again got to control the pace and gapped a lot of people that had just caught back on when we were on Del Dios which ended up finalizing who would be in the front group.

The hardest part of the race for sure was Double Peak, as even though it's the not the same as doing it at mile-130 in the Waffle, it still hurts so much especially if you've been going at a pretty much all out pace for 3 1/2 hours. When Scarborough and the other u23 rider went I was pretty gassed, and when struggling to clip in after hopping the barrier entering questhaven they were able to open up a 10-15 second gap that I just couldn't chase down; as well as having to maneuver traffic from the Wanna race. I honestly didn't think I'd position as well as I did because of my crash a day prior and wasn't able to put in the proper amount of on the bike prep, but I'm super stoked with how good my legs ended up showing up. I had super solid support from my parents and girlfriend all day, which made all the difference too, and am super stoked to get a good result with no crashes or mechanicals.