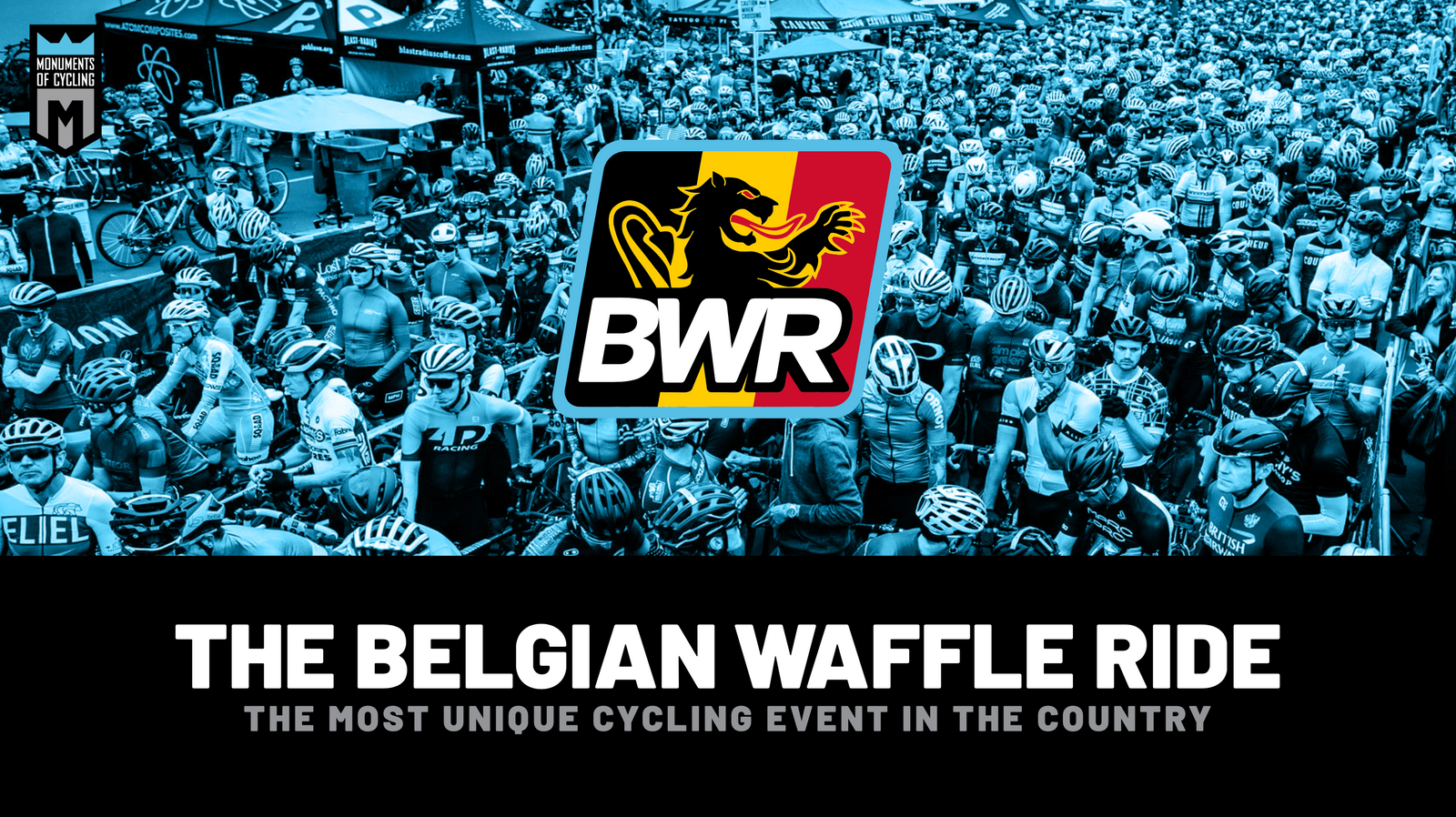 Good News, Bad News, Fawesome News and all the info you need in one place!
Dear Waffleurs:

Please read all of this email. There is vital information contained herein… all the stuff you need for race weekend, including course links, a parking map located below this missive, wave times, and BWR Expo information. Study it carefully, the bottom especially, or forever be left wondering!

Click the cover and start praying.
Final notes:
The Good News is that the weather forecast has dropped four degrees at both the Start/Finish and the eastern remoteness of the course. It will still be warm and we want you to drink early and often, but it will not be crazy hot.

The Bad News is that there just isn't any more time to train. In the time between now and Sunday, do whatever you can to make sure you are confident with your equipment, are hydrating regularly and have a contingency plan in place for any flats or mechanicals that may happen. PRE-RACE WAFFLES... With all the covid provisions still impacting event considerations, plus the sheer amount of people attending this year, we will be providing re-packaged Belgian Waffles in the morning before the race instead of the usual breakfast fare. We will, however, have golden, delicious Belgian waffles from Gear Grinder Grill, who will also be cooking up a massive post-race feast for everyone. * Please plan your pre-race sustenance accordingly.

The Fawesome News is that you get to be a part of the biggest Monument of Gravel with 4,000 other excited riders. To make it more awesome for yourself and others please review this checklist:
Very Important Information:
+ Whenever you are going downhill in the dirt, make sure to go slow. You won't regret it. You will regret it when you don't heed this warning.

+ CENTER LINE RULE - If any rider crosses the double yellow line they will be disqualified immediately.

+ Your tires may not be appropriate, get some IRC Tires at the Expo.

+ The winner of this year's event will take well-under seven hours to complete the 132-mile course. It will be, for most, a 9-, 12- or 15-hour day on the bike. The Wafer will take just under four hours for the first riders and nearly twice that for many others.

+ If you are caught from behind, please ride to the side and allow them to pass.

+ The Wanna is not a race, but a fun ride and will take 2:20 minutes for the first riders to finish.

+ Course cut-off (official finishing time): 8:00 pm. 12 hours 45 minute rolling time for the final Waffle wave. We have extended the cut-off time to 11:00 am at the Black Canyon Feed Zone. This allows riders nearly four hours to travel 44-miles. Riders who do not make it in time will have the option to turn around and ride the remaining 47-miles back or take the SAG WAGON.

+ The course is very well marked with large red arrow signs as well as arrows on the pavement. There are colored flags throughout dirt sections to show you the way.

+ There are many dirt sections you need to go slow down. There will be CAUTION signs, but just take each one of these sections slowly. (See first warning!)

+ There are nine official Feed Zones and a few unofficial ones, with tons of product from Hammer Nutrition, as well as water. There will be all sorts of food for all. No one should go hungry or thirsty.

+ Wrench House will be providing neutral support on the road and especially the gravel portions of the route with six vans on the course and mechanics roving the trails on bikes. Elite Service will be providing neutral support on the roads. There will be multiple BWR vehicles all over the course, plus we will have additional support vehicles for SAG and filming, providing rolling assistance.

+ Each wave will have CHP officers escorting the riders. Traffic Laws are still in full effect. All traffic laws must be obeyed unless directed by an officer. Riders should ride as far to the right as safe to do.

+ Be courteous to all your fellow riders. Point things out. Communicate. Be friendly. Share the work. Enjoy meeting new people and show them the best side of you.

+ Packet Pick-Up for pre-registered riders is from 12-6pm on Friday and 10am-6pm on Saturday. YOU WILL NEED A PHOTO ID to redeem your packet. Unfortunately, your friend can't pick your things up for you, but they can share your beer.

+ Your number/tag is vital to your results. Be sure to adhere as directed at packet pick-up. We use Strava to determine the winners of the various categories. Charge your devices and use Strava! A phone may not suffice unless you bring a charger.

+ We will have number checkpoints along the way to ensure no one cuts the course. 

+ The Wanna is not a race, but a fun ride and will take 2:20 minutes for the first riders to finish. The Wafer isn't a race either, but the Waffle...
Access the Course Routes on 'Ride with GPS' by clicking the map of choice above...
Download the app and set up a free account.  
You'll be sent to our event page, so click "RSVP" to bookmark it and get free access to the voice navigation and offline maps tools.
 
On the map, you will not only see the route, but mile markers, Feed Zone locations, Sector start/finish markers, and more.
While the course will be brilliantly marked with signage, the Ride GPS map will help you know where you are and where you should be if you get off course.
USING STRAVA FOR TIMED CATEGORIES - WAFFLE ONLY
You MUST Use Strava to Qualify for a Jersey Win
General Classification presented by Canyon Bicycles
King/Queen of the Mountains presented by ENVE
King/Queen of the Dirt presented by IRC Tire
King/Queen of the Sprint presented by Hammer Nutrition
Junior Jersey (top young M/F riders under 23) presented by FIZIK

Additional Categories Timed by OmniGo Timing
Best Overall Waffle Team (lowest cumulative time)
Le King of the Keg Brewery Wafer Challenge (lowest cumulative time)

Not Timed, but Equally Important. Peer Recognized!
Hardwoman Jersey presented by Storyteller Overland
Hardman Jersey presented by Storyteller Overland
kUDOs Jersey, most spirited and positive rider, presented by WAHOO
WAVE BREAKDOWNS AND ROLL OUT TIMES
Wave placement will be provided when you pick up your packet at the Expo
7:00 am WAVE 1 : BLACK : WAFFLE PRO, 1/2/3/4 MEN, TEAMS START
7:05 am WAVE 2 : RED : WAFFLE WOMEN START
7:10 am WAVE 3 : GREY : WAFFLE MEN CAT 5/PUBLIC START
7:15 am WAVE 4 : GREEN : WAFFLE MEN CAT 5/PUBLIC START
7:20 am WAVE 5 : BLUE : WAFER MEN & LE KOK START
7:25 am WAVE 6 : YELLOW : WAFER WOMEN START
7:30 am WAVE 7 : WHITE : WANNA START (ALL)

*EVERYONE must pick up in person and sign the additional County waiver *
**You may downgrade to the Wafer onsite when you pick up your packet**
PARKING
North City has two large parking structures denoted in blue below. We also have overflow parking across the street at CSUSM, which can be accessed easily from Campus Way to the south. We have been given the use of these lots by the University, depicted in the map below. 
For Friday and Saturday, use Lots N, K & Z
For Sunday, use Lots C, F, K, N, Z
::30BELGIAN WAFFLE RIDE EXPO SCHEDULE
SCHEDULE OF EVENTS
FRIDAY, JULY 16TH
7:00 am–11 am EXPO VENDOR LOAD IN
9:00 am–11 am ELIEL BREAKFAST BURRITO RIDE - PABLOVE FOUNDATION
12:00 pm–6 pm BWR EXPO & REGISTRATION
5:00 pm–10 pm LOST ABBEY LIBATION STATION
5:00 pm–8:15 pm LOOK CRIT-CROSS (OPEN TO EVERYONE)
          - Cat 4/5
          - Cat 3
          - Women
          - Cat 1/2 Men
8:15 PM - CRIT-CROSS AWARDS
8:45 pm - THE 'IMPOSSIBLE ROUTE: DEATH VALLEY' PRESENTED BY CANYON 
SATURDAY, JULY 17TH
10:00 am–6 pm BWR EXPO & REGISTRATION
10:00 am THE VEGAN CYCLIST TEE-SHIRT RIDE
11:30 am IRC TIRE THERAPY: MAIN STAGE
12:00 pm RIDER BRIEFING #1: MAIN STAGE
1:00 pm CONSUMPTION STRATEGIES BY HAMMER NUTRITION
2:00 pm RIDER BRIEFING #2: MAIN STAGE
3:00 pm LIVE MUSIC: MAIN STAGE
5:00 pm–6:00 pm VIP/MEDIA RECEPTION
6:00 pm–9:00 pm VIP/MEDIA/RIDERS PRE-RACE DINNER
SUNDAY, JULY 18TH
4:30 am WAFFLE CONSUMPTION ENSUES
7:00 am WAVE 1 : BLACK : WAFFLE PRO, 1/2/3/4 MEN START
7:05 am WAVE 2 : RED : WAFFLE WOMEN START
7:10 am WAVE 3 : GREY : WAFFLE MEN CAT 5/PUBLIC START
7:15 am WAVE 4 : GREEN : WAFFLE MEN CAT 5/PUBLIC START
7:20 am WAVE 5 : BLUE : WAFER MEN START
7:25 am WAVE 6 : YELLOW : WAFER WOMEN START
7:30 am WAVE 7 : WHITE : WANNA START (ALL)
10:00 am EXPO OPENS - WAFFLES, MUSIC, BEER, FUN & GAMES
1:00 pm WAFER AWARDS
4:00 pm PRO & CATEGORY AWARDS
4:30 pm WAFFLE AGE GROUP AWARDS
6:00 pm EXPO CLOSES
8:20 pm COURSE OFFICIALLY CLOSES (SUN SETS AT 7:56 pm)
* wave starts are determined by USAC road license
BREAKFAST BURRITO RIDE
BWR EXPO, AT 250 CAMPUS WAY, ELIEL BOOTH
Eliel Cycling has teamed up with the Pablove Foundation in their fight against childhood cancer and created a series of Breakfast Burrito Rides that serve as the official kick off at each 2021 Belgian Waffle Ride event.

The BBR ride is free to all, however, for just a $25 donation to the Pablove Foundation you will receive a rad Breakfast Burrito Ride T-shirt along with a delicious, locally crafted breakfast burrito of your choice. Registrations for the SoCal BBR are open so sign up now and reserve your spot on this one of a kind ride.
2021 BELGIAN WAFFLE RIDE PARTNERS