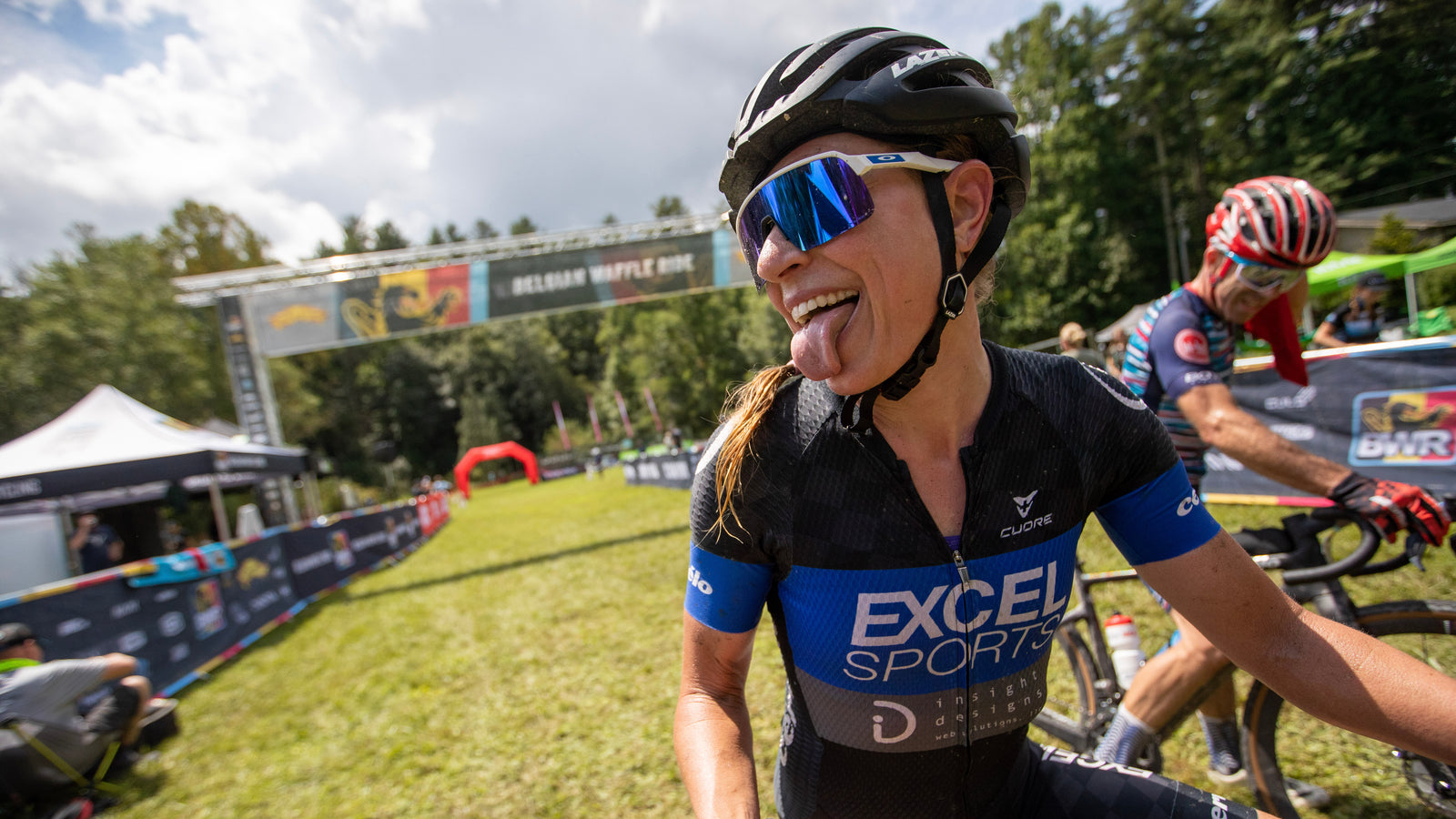 Here is your women's race recap from the ever-talented Amanda Nauman, who was our race commentator and spent the day on the back of a moto covering the race from start to finish!
"Can you help her?" a rider asked me as we came around the corner on a gravel descent and saw a woman strewn across the road, not moving. "Yes," I said, without thinking. We pulled over and I got my phone out. One rider said nobody had called 911 yet, so I dialed it and handled my first emergency phone call. The operator walked me through the questions and a ranger rolled up so quickly it didn't seem possible. In that time a gentleman from one of the waiting cars said he was a paramedic and came over to help. 
It was an experience that got me thinking how important it is to take care of each other out there. As a rider, there's a good chance you'll be a first responder someday in your life and it's our responsibility to rally as a community and help out. In that moment, the race coverage didn't matter, and getting this woman safely off the road was the priority. In life we're going to be tasked with these curveballs and it was incredible to see people rise to the occasion. It's no secret that women's coverage gets the short end of the stick more often than not, and BWR has always risen to the occasion to figure out how to do it. It would be so easy to roll past a difficult problem, hope someone else will handle it, and move on. But that didn't happen in North Carolina and the media team executed incredibly equal coverage and it is worthy of shouting across the lush, green tree canopies.
Thanks for following along with the women's coverage and being so enthusiastic about it. Monuments of Cycling has always done their best to provide as equal coverage as physically possible in these races and I was so proud to be a part of it. Covering the women's race isn't simple, and a big thanks also goes to all the riders who let us float around the lead women and buzz around like gnats. I know it's not always fun to dodge the media mobiles, but everyone was stoked and it made my job easier. Thank you MOC, Pure Gravel, and Floyd's of Leadville for ensuring we could tell the story of hardest race within the race!
So how DID the women's race shake out, you might ask? Well the first QOD segment, Fakenlaken Valtenberg, was the decisive feature in the race only half an hour into the fireworks. This climb split the race up for everyone and as they crested the climb, the Monteren Olijf descent proved to be where the rubberband was going to snap between Sofía Gómez Villafañe (Clif Pro Team) and Flavia Oliveira Parks (Excel Sports). Flavia had kept Sofía within arm's reach for the entire climb and seemed to be playing it smart from where I was sitting. As they crested the climb, Sofía put in a little dig to secure her position with a group of guys and held on for dear life on the descent. Each time I looked back, Flavia's group was getting separated little by little and nobody was taking a hero pull to move up to the group ahead. 
Through the twists and turns of Lakentwisten, it looked like Sofía was stretching her lead with each curve in the road. That didn't last long though because the first QOM, the Ondieptenberg, proved to be another critical moment in the race when it looked like Sofía was going to lose the large group of guys she was riding with. She had a two-minute gap to Flavia at this point but was only riding with two other guys on the climb and Flavia came by in a group of 20+. We waited to see Marjie Bemis (Team CWA) and Tiffany Cromwell (Canyon-SRAM) sitting third and fourth on this road climb and jammed ahead. By the Muurhoward Kloof, Sofía was isolated with a rider from Wahoo and they dug so hard for the next few miles to catch the group ahead of them. It was so impressive to watch these two work together and latch back on to a group of 15+. This is where the most important move of the day happened and Sofía was able to keep a gap of 1:30-3:40 over Flavia for the remainder of the race. Keep in mind, it's only 73-minutes into the race at this point! 
On the Persoon Valt dirt climb before mile-30, Marjie was sitting third at 4:20 back from the leader and Tiffany was a couple minutes behind her. Shortly after this we wound through the Slangengebroad on the other side of the lake and rider groups seemed to solidify for the next stretch of the course with a lot of pavement. Somewhere between the lake and the halfway point, the road seemed suit Tiffany and she made her jump up to third position, 9:40 back from Sofía.

All eyes were on the Groenstroomweg climb as the most important feature of the second half of the race. A third of the way up this, Flavia's group had closed a two-minute gap and was only 1:40 back from Sofía. From where I was sitting, Sofía looked to be in trouble if she faded from her group at all. Tiffany's group had also closed an extra minute here and was only 8:40 back. It was right towards the end of this long QOD segment, ten miles later, that we happened upon the downed rider that needed assistance. It took us almost an hour to catch back up to Flavia and in that time we saw Tiffany and Marjie solidly in third and fourth on the road.

We made it to the base of the Jeter Mountain Road climb just in time to see everyone exploding in agony. Flavia looked strong in a group of riders, and when we caught up to Sofía she was only with a couple guys crawling up the 15% sections. The beauty of road racing allows for a seemingly small gap to look like forever from the spectator's perspective, but it certainly looked like Flavia was making time. A weather-related course re-route put them mostly on a pavement descent to the finish line, and Sofía was able to hold off Flavia. By the end of the race, Flavia was 4:38 back, but I was convinced it felt like 60-seconds with how nail-bitingly close it was on the Jeter climb. The unique format of a Belgian Waffle Ride make a race like this so dynamic and captivating, and it was a pleasure to report from the motorcycle.

Big thanks again to everyone out there and especially my moto driver, Doran Carrell.
WINNAARS!
Sofía Gómez Villafañe (Clif Pro Team), 5:17:11
Flavia Oliveira Parks (Excel Sports), 5:21:49
Tiffany Cromwell (Canyon-SRAM), 5:30:42
Marjie Bemis (Team CWA), 5:40:26
Vicki Barclay (Harbor), 5:47:25