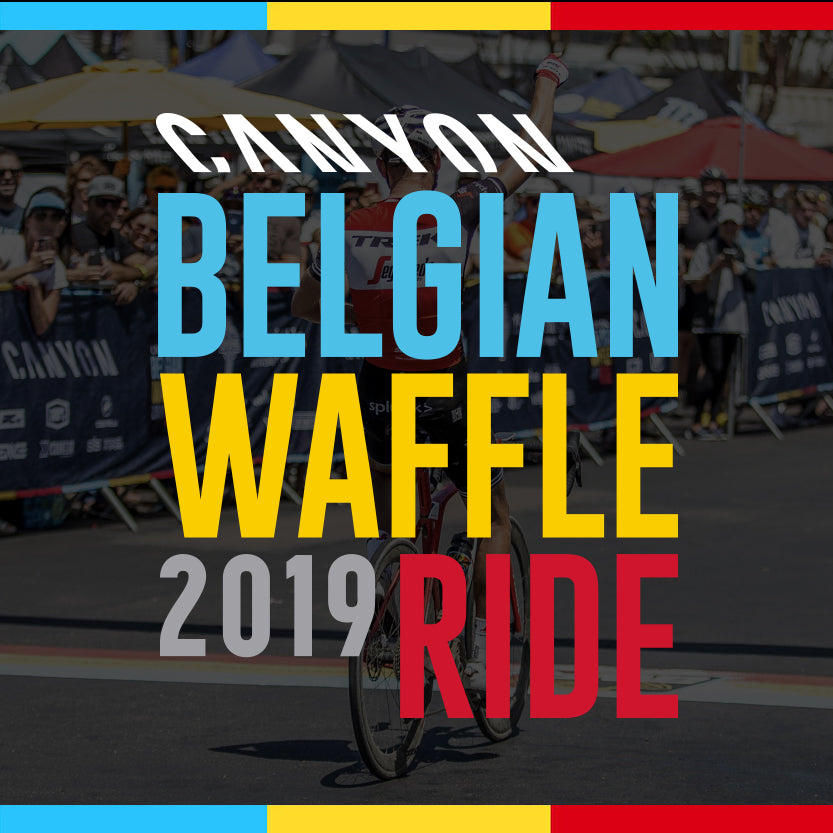 The 2019 Canyon Belgian Waffle Ride—8
th
Edition
It's not about the Waffle, but maybe the Beer.
They say people don't want to read things anymore; that they just want a picture and minimal words. But that's not you and me.
They say people are just too lazy to educate, entertain or otherwise edify themselves anymore. But they don't speak for you and me.
You and me. We're into reaching, growing, aspiring, getting out of our comfort zones, even reading sometimes. And when we read, we breathe in those words so that we might be guided by them or somehow inspired to pull out more of our true selves (we've somehow hidden from the world or ourselves).
Just a couple of years ago someone told me, "People are over the BWR; it's too hard. It needs to be shortened or else people weren't going to come back." They said, "The dirt is too hard and there is too much of it and the climbs are too long." "Make it more like a Grand Fondo," they said, "you'll get more people."
As a marketing person in a separate life, I took these words on. They made me think about what the future of the BWR would be, which is something I have always had a clear vision of in my head; that it will be the single greatest one-day bike race in America… the most unique event of its kind. Knowing that is what heaven looks like for the BWR, instead of heeding the words of advice to make the BWR easier, I extended the race and added more dirt that year. I did this for you and me, because—as a marketing person—I know it isn't about 'getting' more people, it's about attracting the right people and giving them an experience unlike anything else they could ever have; a product, a service, a lifestyle, a brand, a race they can believe in… it's not for everyone. It's for just a few; you and me.
So, as we ponder our own Canyon BWR experience (the one we just had and the ones to come), keep these ideas in your head, they're for you and me. This ain't no Grand Fondo.
2019 Canyon Belgian Waffle Ride Bijbel (PDF)
2019 Canyon Belgian Waffle Ride Bijbel (Amazon)
Canyon Belgian Waffle Ride Vision:
To be the single greatest one-day bike race in America! 
Canyon Belgian Waffle Ride Mission:
Provide riders of all stripes (you and me) the unique experience of an epic ride—equal parts celebration, competition and completion—and to surprise and delight along the way.
Canyon Belgian Waffle Ride Core Values:
We cannot be more sensitive to pleasure without being more sensitive to pain
Fun—waffles, bike riding, beer
Support—everyone is a pro!
Community—give back
Irreverence—we have a happy disrespect for the usual way of racing a bike
Safety—we must be attentive to this everywhere
Most importantly, this is above lifting our experience of life. All of us. And lifting each other up, you and me. After all, we are all going through something, aren't we?

It's true, we want to get more people on bikes—even racing those bikes—but what we really want to do is lift everyone's experience on and off the bike; the bike is a conduit through which we expand. The BWR offers you and me the chance to get out of our comfort zones and reach for more. And in that reaching, in that aspiration, we grow and become more, but what is really important to recognize is that the happiness doesn't occur when we finish the BWR. That's just the destination. The happiness is in the journey there, to that line, which is just one line with many more to come. The happiness is not the destination, it's the journey. The journey started when we decided to step out.
And so, as we roll away, ever closer to a new destination, let's remind ourselves to be present, here and now. The Dali Lama once said, "There are only two days in the year that nothing can be done. One is called yesterday and the other is called tomorrow, so today is the right day to love, believe, do and mostly live."
Certainly, we need everyone to know this event is truly unique and it comes together only by way of a collection of dedicated people believing in what we are doing and what we are offering our community. There are people, many of whom you may never meet, who have such a positive influence on this event. Dave Hekel. Jake Orness. Victor Sheldon. Paul Dunlap. Adam Spahr. Rod Simmons. Susie Murphy. Tomme Arthur. Andy Brightman. Blair Clark. Jay Isbell. Jaclyn Mayer. Jim Miller. Steve Driscoll. Jenn Gee. Kris Hull. Joey Rodriguez. Phil Tinstman. Randall Coxworth. This is to just name a few. And, let's remember, there are hundreds of volunteers and tons of contributors from every brand who gather together to deliver something special, for you and me. (See the actual list of these heroes below.)
BWR would also like to give a BIG shout out to LIFT Creative Studios for their art direction and digital services throughout this year's Canyon BWR!
Adam Spahr

Alyssa Quick

Amy Leung

Andrea Shaw

Andy Brightman

Andy Rodgers

Anthony Rodgers

Bart Salatka

Ben Stafford

Beril Pola

Bernie Reyno

Bill Kree

Bill Kress

Bill Schnellinger

Billy Burns

Bob Baranek

Bob Sheldon

Brandy Wirtz

Brent Prenzlow

Bret Lundquist

Brian Makarowski

Caleb Christian

Carissa Carrier

Carlota Campbell

Casey Cohenmeyer

Cathy Wagner

Christine Marckx

Christine O'Hara

Christine Yonan

CJ Palmer

Cristiani

Marraccini Dante

Dave Cynkin

Dave Pankratz

David Chen

David Larson

David Weiland

David Yates

Diana Noble

Djohara Vande Casteele

Echo Rowe

Emitt Hansen

Eric Gerster

Eric Rehberg

Erin Barone

Greg Brown

Greg Jones

Heather Nelson

Herb Lowe

Holly Hull

Hope Brightman

Jane Findley

Jane Scanlon

Jay Romais

Jeff Godun

Jeff Sloan

Jerel Reeves

Jesus Mujicia

Joann Zwageman

Joe Marckx

John Sprey

Jon Morgan

Julia Dito

Justin Prugh

Karen Rodgers

Karen Sing

Karla Baltazar

Kristin Smith

Len Gee

Lisa Rehberg

Lori Slaff

Luis Lopez

Marc Aguilar

Marc Saulnier

Margaret Virissimo

Mario Ibarra

Maui Kona

Michael Pelky

Michele Davis

Michell Tatar

Mike McVay & Grandkids

Miki Vukovich

Ming Chaung

Moise Pham

Monica Vela

Niels Vande Casteele

Pat Scanlon

Peter Dulany

Pivot Charter School Volunteers

Quintin Abell

Quintin Gee

ReeAnn Zamora

Remy Smidt

Rhonda Quick

Robert Sheldon

Rod Simmons

Rush Cycle

Sara Caldwell

Sarah Anderson

Sarah Stafford

Sean Purcell

Shane Heppner

Sheri Stephenson

Shirley Van Noy

Simon NIcholls

Soon Gill Schnellinger

Steve Floyd

Steve Masterson

Steven Tanner 

Sumi Gross 

Terry Butler

Terry Tongate

Theresa Romais

Tim Schofield

Tina Schmitz

Todd Huckins

Vicki Vante
This year we shared quite a bit with you. We went out and filmed each of the important sectors and wrote words to describe them that played along with our unique approach to setting up this event. We hope you enjoyed them. They were created in the hope that we would be edifying and entertaining everyone. They also served as a consistent, repeated message that each of these important sectors needs to be treated with respect. They compel our attentiveness.
We had one person ask, rather annoyed, "If these emails were necessary?" Apparently, our emails to this first time Wafer rider were not serving their point. As it turned out, that one person finished near the very back of the Wafer field. Made us wonder if maybe he should have read the emails and watched the videos. One thing is certain, we will continue to provide new and unique ways of plugging into and experiencing the interesting facets of this unique event. If you don't like the communications, don't read them, but please don't complain, before or afterwards. Play along. It's more fun that way.
To relive these communiques, you are can find them here:
You can also find links to all the galleries here:
Steve Driscol (LiFT Creative Studios)
BWR on YouTube
Wafer by Cycling with Scissors
Words about BWR:
---
Each year I write an account of how the race went down from the front, but this year we spent so much time covering and documenting the front of the men's and women's races for the BWR film, I felt it might be best to wait and let the film tell the full story when it's released at the San Diego International Film Festival.
I can say, as with years past, the event had its share of near catastrophes. Last year at the beginning on the first off-road sector, Lemontwistenberg, there was a downed power line that could have stopped the race dead in its tracks, 12-miles in, if not for the quick work of Victor Sheldon who was riding the front of the course on a motorcycle.
This year, at what is the most critical turn of the event—the U-turn at Cielo in advance of the entry to Lemontwistenberg—the highly paid Traffic Control Services team had erroneously placed the cones a quarter of a mile east of where they were desperately needed. Those of us in advance of the pro race had to create a human chain in lieu of the cones and did our best to get the riders around that potential mess. Sketchy moments, for sure. For the next waves, we were able to move the cones. It should be noted, it's the County that mandates this unfortunate turn… it's not by our design.
Another aspect of the event (I don't think anybody knew about) that forced the CHP to be on its toes with key intersections was the fact that the race—the leaders—rode faster than expected and the timing for officers at the important intersections had to be adjusted and sometimes they were with only seconds to spare. The CHP did an amazing job once again, led by Sgt. Michael Morrin, who is also a cyclist and it shows.
Related to the faster-than-expected pace of the leaders, the cut-off at the Black Canyon Feed Zone wasn't enforced, so when the leaders and media entourage were climbing back up Black Canyon toward the 80-mile mark, they encountered riders 35-miles behind them who were coming down the sometimes narrow, sandy and twisty descent; many were walking their bikes down. We warned folks that it is common for riders to go slower down this stretch than they ride up, but we never thought riders would walk their bikes down this stretch. For the future: The cut-off times will be enforced, if nothing more than for the safety of those who would be going down against the stream of leaders coming up.
As I am sure you noticed, regardless if you Waffled or Wafered, the Feed Zones (10 for Wafflers) were staffed with happy volunteers from various BWR partners who were there to ensure you got the most out of their efforts; food, beverages, lifted spirits or even fixed bikes. I am sure you noticed the six VeloFix vans out on the course or even the roving mechanics along the trails. And you may or may not have noticed but there were volunteers posted up all day, some of them for 10 hours, making sure riders went the correct way and that those non-riders around were aware of what was happening. 
---
WINNAARS
---
By now you know who won the Waffle and (not supposed to be a race) Wafer.
You may find the Results here: Canyon Belgian Waffle Ride and Canyon Belgian Wafer Ride

TOP OVERALL WAFFLE RIDERS
Women— Sponsored by Monster Hydro:

Sarah Sturm                                     7:23:33                        $1,750
Sarah Max                                        7:35:54                        $   850
Olivia Dillon                                    7:39:48                        $   400
Hanna Muegge                                 7:40:16                        $   200
Anna Grace Christensen                 7:46:59                        $   100
Men— Sponsored by 454 Tattoo:
Peter Stetina                                  6:20:37                        $1,500
Edward Anderson                           6:21:47                        $   750
Ted King                                           6:22:42                        $   350
Cameron Piper                                  6:31:51                        $   175
Stephen Mull                                     6:34:41                        $   100
---
CATEGORY WINNAARS:
Queen of the Sprint presented by Science in Sport:
Lauren De Crescenzo—7:42
King of the Sprint presented by Science in Sport:
Ted King—6:45
Queen of the Mountain presented by ENVE:
Lauren De Crescenzo—46:45
King of the Mountain presented by ENVE:
Edward Anderson—38:57
Queen of the Dirt presented by IRC Tires:
Hanna Muegge—28:46
King of the Dirt presented by IRC Tires:
Peter Stetina—21:16
Queen of the Canyon presented by Canyon:
Hanna Muegge—1:07:48
King of the Canyon presented by Canyon:
Brian Scarborough—54:14
Wahooligan Award for Best Young Rider (U-23) presented by Wahoo Fitness
Men—Edward Anderson (2nd overall)
Women—Ella Stimson
TOP WAFER FINISHERS:
Women

Kris Reynolds                                      4:29:02
Cherell Jordin                                    4:32:29
Alyssa Eikmeier                                4:38:29
Kirsten Darley                                     4:42:04
Paige Handy                                        4:43:46
Men

Kris Hendricks                                     3:54:57
Karl Bordine                                        3:59:02
Ryder Jordin                                        4:03:35
Jason Phillips                                      4:08:54
John Saliamonas                                4:09:39
TEAM WINNAARS:
Waffle Team Winnaars:
Team Specialized x Rocket Espresso        29:36:30

Le KoK Brewery Team Challenge (King of the Keg presented by the Lost Abbey):
Rouleur Brewing Company       13:54:39                       
---
THE HONORARY AWARDS
---
Each year we have two categories the winnaars of which are chosen by the riders themselves. Awards given by peers. Typically, these awards are related to the exploits of the day; the spirit that riders give either by way of their being in service to others or just being so over the top BADASS that their efforts cannot go unrecognized. For example, Brent Prenzlow started in the third wave year and soloed his way to a top ten finish.
This year the spirit of the event transcended the actual race day shenanigans and manifested itself in ways that compel our recognition and celebration, for they are true examples of the spirit of sportsmanship, of overcoming obstacles, of being our best, of giving to others…
kUDOs Award
The kUDOs award is quite possibly the best acknowledgement a rider of the BWR can receive. The award is bestowed upon the rider (or riders in this case) who exhibit a spirit, a will, an unselfishness, a Belgian hardness, an unwillingness to let anything get in the way of living the full experience… and sometimes these things take on a meaning that transcends the big day's event and pervades the lead up and the post event formalities…
The kUDOs award is in honor of our fallen friend, Udo Heinz. Udo was tragically struck down by a NCTD bus driver in Camp Pendleton, who took him out from behind leaving a wave of destruction in his path, including seriously hurting or maiming the other riders with Udo. Udo grew up in Germany where he discovered a love of riding bikes and racing cyclocross at a young age. Udo loved to be out on his bike, and he loved the dirt. He had an infectious laugh and a gentle, youthful spirit that always made riding with him a blast. These are the attributes of the kUDOs winners: unselfish, festive, positive, playful and caring. You can't spell KUDO without UDO!
Hardman/Hardwoman Award
Like the kUDOs award, this category is also determined by the riders who nominate the riders who go out of their way to ride the front, to shelter others, to exhibit that truly Belgianesque love of suffering in servitude of others. Similar to the kUDOs award without all the smiling, cheering and playfulness. This one is all business. This award has become more than just the heroics of the day; transcending the BWR, which ends up being a magnifying glass on the heartiness of one's soul.
HARDWOMAN—KRIS GROSS
In the past, the Hardwoman Award has gone to badass riders who one way or another overcame lots during the race and produced a stellar performance on the day. This year's Hardwoman Winnaar has gone through a tremendous number of headwinds, hellaciousness and heartbreak, all before even getting to the start line.
Kris Gross is naturally a Hardwoman, who loves all kinds of bike riding with a solid background as former pro xc rider. She loves teaching and mentoring riding skills, especially for women just getting into the sport. This past year has been a tough one for Kris, though. Her loving and young husband, Gerhard, after nearly two years of treatments and battling to beat the odds, passed away on the evening of August 14th, 2018. Leaving Kris and their son behind. The grief alone would be enough to keep any of us away from the commitment of training for such a big event like the BWR, or even just riding at all. Well, Kris didn't get to train the way she would but that didn't keep her from taking on the Waffle.
Kris views the BWR the same way many of us do; as a conduit to other places, perhaps more well-lit and open places. Solitude for long stretches that brings us back to our loved ones more whole, more our own, precious self.
As Kris puts it, "In my highest hopes, I hope to be helpful to someone (even if that someone is just me, letting it out and processing). The bike is my secret trick for occupying the parts of my mind usually concerned with basic logistics so that the deeper parts can have a chance to process all that needs to be processed. Thank God for a ride like BWR that's long enough to keep my "busy" mind occupied for almost ten hours on the day, but many hours every day from sign up 'til finish line. Sitting quietly in a yoga or meditation practice is too much for me, so bikes it is. I think it's that way for lots of people."
Kris Gross is our Hardwoman for the 2019 Canyon Belgian Waffle Ride for all the reasons mentioned above and a hundred more not referenced that had her arrive at the finish in 37th place. The BWR offers us a chance for transcendence, if we choose it, and for some, it offers a deep well of inspiration we can take back to the world that exists around us. It's but a few people who get to wear the Hardwoman jersey as a badge of honor for transcending that which at times we think we might not be possible.
HARDMAN—RYAN DAHL
Ryan is the first person to ever win this coveted award twice. The first time, in 2013, it was for his selfless support of those on his team and me personally when he offered his bike at mile 101 after I suffered a mechanical. Six years later, this second honor for Ryan is for totally different reasons than his unflinching support of others. This time it's for his unflinching dedication to coming back from a catastrophic accident that happened less than a year ago. 
The accident, which saw Ryan head butt the ground at 32mph, left him with a broken neck and in need of havinghis C5, C6, C7, T1, and T2 vertebrae fused. It's the kind of injury that leaves people forever altered and often in a wheelchair the rest of their lives. It's the kind of nightmare where the doctor tells you things like, you will never be able to ride again, that you should take up swimming and you will have tingling and pain in your hands and arms the rest of your life. It's the kind of thing that people go through that leaves them forever changed and the changes are often what the person chooses them to be. Do they awake as a victim and wallow in their own self-pity or do they awake with a new lease on life? Hardmen choose the latter.
Ryan knew all the horror stories that come with spinal injuries—if you aren't paralyzed, then often you're plagued with chronic pain. But Ryan didn't buy into the gloom. The pain was there, for sure, but it wasn't bad, and he could always figure out what to do to make it go away or at least make it better. Before long he was walking around the house, then the yard, then the block—I saw him often on our street, simply walking.
Eventually, he was back on Strava, and for Ryan, this was a real connection back to his community, and he felt every single kudo on an emotional level—he knew we, you and me, were rooting for him. It motivated him, and before long his one-mile walks were turning into seven-milers. Six weeks after surgery, Ryan was back on the trainer, Zwifting, as the kids say. He worked up to nine hours per week by week eight. Trainer miles are tough, especially on Saturday mornings when all your friends are out hammering away on a beautiful sunny day. Those mornings were hard, but we know about pain, don't we? Pain is simply an indicator that growth is happening.We cannot be more sensitive to pleasure without being more sensitive to pain.
These last few years, even though Ryan was riding so well, he said his body wasn't up to the long effort of the BWR; that his heart wasn't responding well to the long efforts. He hadn't done the event in a few years, but this year, with his new lease on life and a commitment to stepping outside of his comfort zones, Ryan entered the BWR, which is crazy to think that less than a year before he had to go through months of rehab post-surgery for a BROKEN NECK!
The days when Ryan and his Belgian buddy would log massive recon rides averaging 21 mph months before the BWR weren't really possible now… his neck was still healing, and his intuition was telling him to keep the rides shorter and smoother. The sensation he has is that his C-Spine fusion is terribly efficient at transferring energy from his body to his skull. Basically, his eyes bounce if the ride is too harsh. No joke. 
Ryan's solution was going to the tires and playing with air pressure and volume. For race day, Ryan ended up running 32mm tires at 40psi; squishy enough to not blur his vision or create too much vibration that ultimately resonated in his skull. Normally, Ryan would have rolled IRC's 28mm tubeless beauties.
As Ryan puts it, "The BWR is about slaying yourself, not for glory but just for the fact that nothing feels better than riding stronger at mile 120 than you were at mile 20. All that work and training brings you into a new realm of fitness where you can literally hammer all day long and I wasn't getting that in this year. The final recon ride was my first real shakedown. The crazy part was I felt amazing, the bike felt amazing, I didn't have any pain, and I remembered just why I fell in love with this event back when you and I would pour ourselves into the pave. Something about the perfect balance of skill, strength, grit, and experience that needs to happen to even finish, let alone finish well. That element is intoxicating for me."
He continues, "I now have a new-found appreciation for life and how important a life with substance is. It's transcended everything I do and, to be completely honest, the accident was the greatest thing that has ever happened to me. It gave me a greater love for the journey and has taught me that pain should be perceived as a positive because without it we could not achieve the levels of growth needed for the life we all deserve to live."
Ryan, you are an inspiration and a winnaar.
Hardman—Brian Scarbrough
This year, as with every year, riders are confronted with flat tires, mechanicals and other bad luck—we've been there, damnit. Life, and the BWR, throw curveballs at us; you and me. This year it happened to first-year BWR competitor, Brian Scarbrough, a local cat 5 road cyclist who also happens to be a national XC champion.
Brian bribed his way into the pro wave by destroying every local group ride and the recon rides. He prepared well for the day and sure enough he was in the lead riders leaving Lemontwistenberg and stayed there throughout the following dirt sectors, Black Canyon and all the mayhem that happened over the first 91-miles. Unfortunately, Brian flatted on Sandy Bandy just as the lead group had dwindled to 9 riders. He had ridden the perfect race until that flat and, to make matters worse, no one loves Sandy Bandy more than Brian.
Undaunted, Brian fixed the flat and began chasing the leaders, only to flat again. Double flat! At this point, some of us might have thrown our bikes into the lake or simply quit. Not Brian. Nope. Brian fixed the flat and began chasing again, charging after riders who had passed him while he worked on the side of the trail. He caught many of them, one by one, at this point. He never succumbed to doubt, victimhood or exhaustion. That's not his jam.
Brian kept at it and eventually finished 7th overall in a time of 6:39:14, passing some of the most elite riders anywhere, like former national champ, Eric Marcotte, national cyclocross phenom, Jamey Driscoll, former BWR winner, Josh Berry, and edging out Stephen Vogel by just a few seconds.
Brian's grit, tenacity and his only "look at the good" attidue compelled our consideration for this award, and thus receives this Hardman acknowledgement (and the award for the first cat 5!).
kUDOs—Alison Tetrick
By all accounts the 2019 edition of the Canyon Belgian Waffle Ride wasn't a good race for Alison Tetrick. Alison ended up on the bottom of a dogpile in the first but not the only crash of the day. A number of mishaps took her out of the running to win the event, which for many top riders would be an easy out to call an Uber or jump in the Sag Wagon. Not Alison. Despite the bloody knees and arms and an assortment of issues, not only did Alison push on, she did so with class and a reckless abandon toward making it all a bunch of fun. Just the way Udo would have done.
We received numerous emails on the subject of Alison and her Udo-like approach to the event. Some people emailed us, not knowing who she was, asking us, "Can you tell me who the pretty girl in the blue kit was, because not only was she a badass, but while she was catching people she had nothing but words of encouragement and delight for everyone that she encountered." Other emails we just pretty much flat out lauds and laurels for the Queen of Kanza; for her spirit, her strength and her sincere sportsmanship. 
Udo is proud and so too should all of Alison's sponsors, friends and family for her dedication to living a life full of positivity…
And just to underscore this, here is a quote from a fellow BWR rider about Alison's largess.
"As we were starting the climb up del Dios at the end of the ride, she passed me, and I jumped on her wheel. We worked a little together whenever I could (which wasn't much) because I was near my limit on her wheel. At one point on a descent we had acquired about 20 guys, and at the top we (she) had dropped everyone. 
Throughout that whole 30-minute climb EVERY PERSON SHE PASSED she shouted words of encouragement, "Great job," "You are doing so well!" "Keep it up," "You're almost there!" All I could do was stare at her wheel, lest I get dropped. The LAST thing in my mind was to talk to other humans, yet she helped push our fellow sufferers on! We worked together for a time through San Elijo then she dropped me like a bad habit on the climb towards Double Peak…
But at the finish line she saw me and said, "Thank you for all your work back there (on the course)." I was actually so shocked that all I could say was, "Thank you, you were amazing." I then I found a little corner and was overcome with emotion, I lost my shit, because she was such a big help in pushing me past my limits. In the end I could have just sat up and soft pedaled all the way home, but she was so inspirational that I glued myself to her wheel. With her help, I dropped almost two-hours off my previous year 's time to finish 17th in my wave (with a flat on the first rock on the course). I am sure there are tons of stories like this about Alison, but I just wanted to add my two cents."
Udo is smiling down on you, Alison, and all of us for having the privilege of riding with you.
kUDOs—Michael Macare
Michael J Macare loves a good time. He's not one to turn down a beer, a hug, a ride or a high five. He's here to bring joy, but even with his predisposition for happiness, the Canyon Belgian Waffle Ride has been anything but joyous for Michael…
Both of the last two years, Michael had shockers (keep in mind, tons of people just don't finish the BWR). He didn't finish either event after experiencing every kind of headwind, road block, mechanical and/or physical issue to make finishing a non-reality. Not one to let such silly things get in the way of fulfillment and happiness, Michael dedicated himself to being physically, mentally and equipment ready for the biggest day of his life on the bike. And, as they say, third time is a charm.
While it is commendable to come back, again and again, to finally devour the Waffle, but what matters more is that Michael used his own personal journey to complete the event by engaging with everyone around him with encouragement and positivity. Letting many know, "Hey man, I'm doing this, and you should too, it's going to be great. 
Michael was a regular on the Thursday Rouleur Gravel Rides and all the BWR Recon Rides, as well as all the Gravelstoke rides and his stoke became a staple of the local cycling community.
Udo would have loved riding with Michael!
Lantern Rouge—Sunceray Chamblee Rickard
For many of us—you and me—the heroes aren't necessarily the ones who finish at the front, even though they are awesome to watch. Peter and Sarah! The heroes we celebrate here—Kris Gross, Ryan Dahl, Brian Scarbrough, Allision Tetrick and Michael Macare—are special in their own right, but what about the heroes that are out there suffering twice as long? The perseverance…That's what BWR is all about.
One such heroine is our Lantern Rouge Winnaar, Sunny Rickard who is an athlete of extraordinary depth and prowess in many sports… We let Sunny share with you here what it all meant to her.
First time to be the 'Very Last Finisher' of a race by Sunny Rickard
No one ever talks about the last finisher at the Tour de France or the Olympics. Who are those Athletes? I want to know now. 

Is it better to be the very last person, in an event that's probably way over your head, or not challenge it all.? I was originally signed up for the Wafer, but because I Mountain Bike the area so much, I know it so well… I was looking at the Waffle course, I was like, ''I could finish that thing physically." But I didn't think about the time it would take me to finish. And it's not just 135 miles on pavement. Nope, they really turn on the hurt with tons of gravel and sand and off-road terrain. 

We rode from San Marcos to Santa Ysabel. Pretty much felt like I was in Julian. We climbed 11,000 feet. They took me on hills I didn't know existed. I went through areas of San Diego county I had no idea about. And I grew up in San Diego.! By far the hardest thing I ever done.

I just knew if I stayed in-front of my salts, electrolytes and food, I would be able to finish. I had Pizza delivered to me at mile 80. That's all I was looking forward to after mile 30. By mile 50, I was like "What the F* did I sign up for." And, I wasn't even at half way. This looked much easier on paper. 

Still, so glad I attempted it and finished it. Why the F* not. 

Thank you to Mike Levy for running support and meeting me at mile 40 and 80 and every stop after. Thank you to Derek Gonzales for coming back at 9pm to celebrate with us! And all your Waffle Tips. Thank you to the crew of Belgian Waffle, being out the course with us. And the crew that let me keep fighting on. They kept asking if I was ok, and I kept telling them I was going to finish. And don't even talk to me about the sag wagon. And the crew that was still at the finish line after Dark. and Thank you to Paul Dunlap for pacing me with my Sunny Bobby Hepp song. So Epic!!! 

Total Blast! Belgian Waffle Race is so nutz! So much fun and so hard. So happy I did it and I'll be back! 

Not embarrassed at all to be the Last Finisher! Totally stoked as a lot of people drop out. People were dropping out all around me on the way back. So proud to finish it and I'll take the last Waffle Finisher any day!
Sunny, you are our HERO.
---
RECAP
---
This year's Canyon Belgian Waffle Ride was the most completed and largest in its eight-year history. What made it stand out from other years was the number of females who took on the waffle and the amount of genuine Udo-like spirit that people from the front to the back of the line exhibited, on and off the bike.
Next year's event is going to happen on May 3, 2020. It will be longer and more difficult than before, but not crazy long. We plan on doing more for our female riders and increasing the prize purse as well as support we provide every rider.
Thank you for reading this and feel free to share it with friends and loved ones.
We look forward to expanding the number of Canyon BWRs next year with events in other, rad locations. Mostly, we look forward to connecting with you, on the road, on the trail, on IG or at some festive occasion yet to be announced.
DANK U!
It's not about the Waffle…
or the Beer,
but what two better things
to bracket our collective passion?