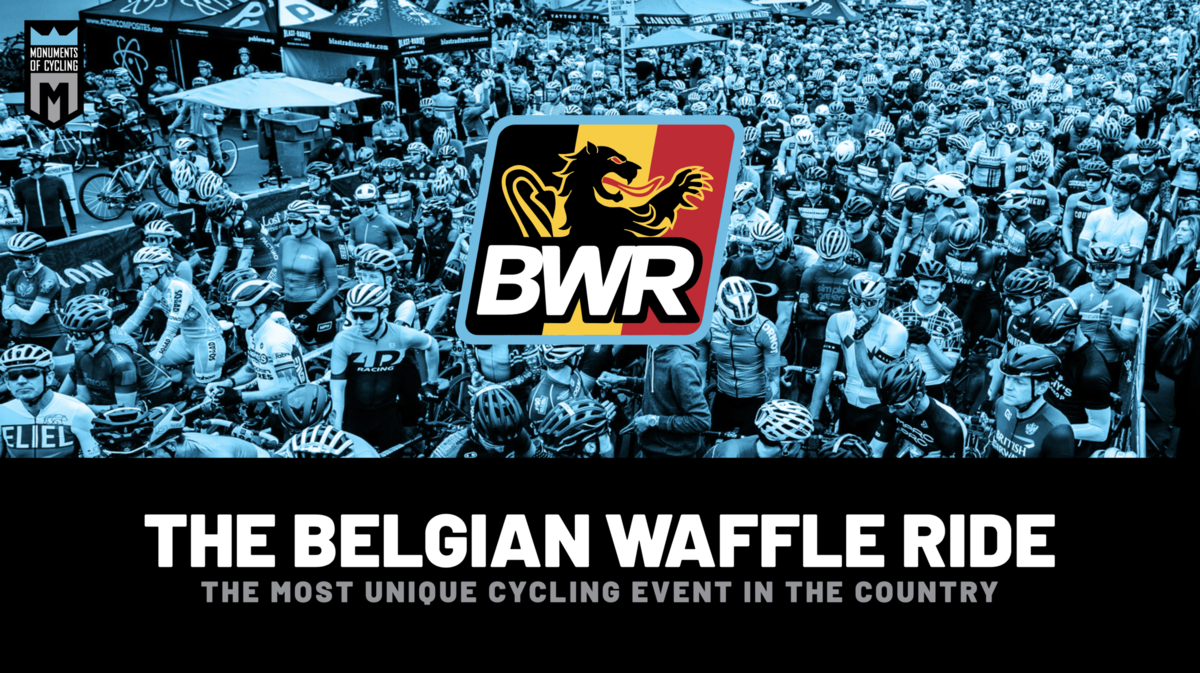 This week, we share some insight from long-time BWR community members, Echo Rowe (who finished 20th last BWR), and Ryan Dahl, two-time Hardman Winnaar, who is competing in the Lentz is More MTB Waffle this year. We are so excited to share these two special people with you. They are both inspiring and delightful riders who lead impressive lives on and off the bike.

Dr. Echo Rowe is with Stanford University where she is a Clinical Associate Professor, Anesthesiology, Perioperative and Pain Medicine. She is a stellar mountain biker and equally outstanding on a gravel bike. She is also playful, tough as nails with a soft and fun bedside manner.

Ryan Dahl is the CEO of Sticky Bumps, and you may also know one of his product lines, WEND WAX. Ryan has been racing since before they created helmets, and he isnt even 40 yet. Ryan is also a bad ass in any two-wheel environment. He's won the state title in 'cross and is equally talented on a road or mountain bike. He's beautiful on a bike too, just maybe not as beautiful as Echo.
Very recently, Ryan, at the height of his fitness, was involved in a terrible bike accident on the local Saturday group ride in SD. Caught up in a high speed crash, he head-butted the ground at 32 mph and his chin hit his chest and his body weight was absorbed by his cervical spine. Ryan's injuries put him within a couple millimeters of being paralyzed. His C5, C6, C7, T1, and T2 vertebrae needed to be fused and his C7 had to be removed completely and replaced with a titanium prosthetic.

What happened after has been quite amazing. Ryan worked methodically everyday to overcome the prognosis of his doctors and, boy, did he ever. He came back like the Bionic Man and returned to the busy end of the peloton and earned his second Hardman Award less than a year after this near death experience. Perhaps more importantly, it was during this comeback that Ryan met the love of his life, Echo, and the two were married the next year. The Dynamic Duo spend time in both NorCal and SoCal, spreading their positivity throughout the Golden State.

Here's these two very special members of the community sharing their own answers to our questions...
ECHO & RYAN: DOCTOR & CEO, ADVENTURISTS, BAD ASSES, PARTNERS AND CO-CONSPIRATORS
MMX: How long have you been an endurance athlete, and what was your first taste? 

Echo: As a girl from Montana, I've always been outdoorsy and sought adventure. Although I played sports in high school, I wouldn't say I was gifted in any way except pure grit and determination. I dabbled in long distance running in college, only to succumb to chronic injury and then took up rock climbing in summer, skiing in winter. When I moved to Seattle for medical school, I found the one sport you can do rain or shine…scuba diving.  Most people wouldn't think of scuba diving as being a hard core sport, but I tend to take most things I enjoy to a more extreme level. I earned my advanced technical and cave diving certifications and have been diving all over the world from British Columbia to the Red Sea, going to depths of 200 ft and sometimes spending 5+ hours submerged in a cave with double tanks, stages and deco bottles. The endurance, focus, and ability to problem solve in these environments are the same skills I practice almost daily while taking care of children having open heart surgery.
When it comes to cycling, sometimes it feels like I'm just getting started. I didn't get my first road bike until 2009, and then several years later, I tried mountain biking.  Once again I found myself in the deep end, seeking to push myself to new limits. Despite a few broken bones and torn ligaments. I finished the Leadeville 100 less than a year after starting to ride dirt and immediately thought 'what's next'…turns out, LOTS!
Ryan: I'm no endurance athlete, and BWR is more like a seven-hour cyclocross race, or 8-hour plane crash, depending on the year! I had my first taste of this in 2012 at the inaugural BWR and have been trying to understand how to go 'til you blow for 7-hours ever since.
MMX: What's the hardest race you've ever done?
Echo: I would have to say Breck Epic, a 6-day mountain bike stage race above 10,000 ft was especially challenging. The first day a frigid and pelting rainstorm started an hour into the race and around 30% of participants did not finish due to hypothermia.  The fatigue of racing 4+ hours a day is exponentially additive and recovery is impossible at that altitude. But I tend to thrive in that type of suffering, even though I couldn't feel my hands to brake or shift gears, I still finished with a big muddy smile. Other races have been hard for completely different reasons. A few years ago I went to a bike race blurry eyed from almost no sleep and a heavy heart after a difficult night at work. However, I believe the best way to honor life is to fully embrace each day we are given. So no matter how 'hard' a race or ride is, I am pristinely aware that being able to line up to do something I love is a privilege. 
Ryan: In 2019 I signed up for Breck Epic, that race was H A R D! It's the kind of event that could end your cycling season if you enter it unprepared. The race is 6-days of endurance length MTB stages, all between the elevation of 9,500' – 12,500' and was the first major event where I thought a coach was in order.  Adam Mills @sourceendurance delivered me with enough depth to win the first 4 stages and finish the event without being destroyed. 
MMX: What's your favorite race of all-time?
Echo: This is impossible to answer! Being a mountain girl at heart, I really enjoy the longer mountain bike races where physical endurance, mental stamina, and a bit of technical prowess come into play more than natural born VO2 capacity. Filthy Fifty is one race I really look forward to since it combines two of my favorite things - mountain bikes and costumes!  It also happens to be where I was first introduced to my one and only, Ryan Dahl, while warming up in a tutu… we were married two years later and share a love for crazy adventures!  As my husband, Ryan, and best friend, Casey Cohenmeyer can attest, I also just love doing things that are really dumb and hard like riding from Portola Valley to Encinitas in 5 days (550 miles and 30,000 ft) or climbing Nate Harrison on New Years Day with miles of mud, snow and ice.  Stay tuned as the dumb ideas keep coming…
Ryan: That's easy, Belgian Waffle Ride is my favorite race of all time.
I've been racing BWR's since the beginning and have seen your diabolical mind worsen with time. The routes have become more technical, the courses longer, essentially requiring more and more focus on preparation. It's so much more than just a one-day race, and everyone who begins the journey quickly realizes that the real magic begins happening from the day you commit to the race. I also love that you must be a Rouleur to do well, and thoroughly enjoy seeing the one-dimensional Vo2 monsters fall apart when the Pave turns to Sand.  
MMX: As an endurance athlete,  what is the best advice you can give someone attempting their first BWR?
Echo: Having a coach is invaluable for someone like me who is trying to balance an incredibly intense career with chaotic hours and a desire to perform at my best.  I need someone to not only give me time efficient and effective workouts, but also to tell me when it's more important to rest or change training plans if I've worked all night rather than trying to power through. I am also a big advocate for doing some sort of basic strength and core exercises to ward off overuse injuries, especially for those of us who aren't quite as young as we feel. My last piece of advice is to remember why you are doing this event - maybe it's a huge fitness goal or to challenge yourself in mixed terrain or just to have a rad day with friends.  Find your motivation mantra and use it to put in the work. 
Ryan: Know your ability and then create a plan accordingly. Can you dance through the rock garden on your road rig? Or are you more of a Bam-Bam? If it's the latter, then maybe 32mm GP5000TL aren't for you! Do you have a wicked 5 min power but have never raced past the 8 hour mark? Perhaps you should save some matches and let that Neutral Zone breakaway go? This event takes all your weaknesses and exploits them to a humiliating degree. Focus on your strengths, be smart, but also make sure your weaknesses are well trained before you line up, and have your life insurance docs in order.
MMX: What sort of training do you undergo to get ready for the various types of events you do? How does BWR vary?
Echo: The past year my coach, Adam Mills - owner of Source Endurance, has me doing lots of intervals to improve my 1-5 minute power which was a pretty glaring weakness compared to my long distance endurance. For BWR or any other 8+ hour event, I think building an endurance foundation is key, but those short power burst are also critical for staying with a group and can make a huge difference in an event like BWR.  Adam definitely has helped me strategize when it comes to group ride tactics and when to conserve energy vs put in the extra effort for long term gain.  I also find recovery tools such as compression boots and some sort of massage beneficial as you increase training volume and intensity . The hardest part is finding enough time to fit it all in…
Ryan: BWR requires you to have a ton of depth compared to other races as the course is intentionally designed to wear you down like a true Spring Classic. For BWR San Diego Adam Mills has me working volume with total KJ targets of 6,000+ during workouts and interval work on the tail end. This has me spending quite a bit of time in the saddle to build the base, I should be able to sharpen up with a few weeks of focused interval work. Mountain biking and gravel riding are in my rotation to keep the dirt skills sharp.
MMX: What is your bike set-up for the BWR? Has it changed over the years?
Echo: You might say I tend to go 'all in' when I decide to do something…especially if it involves shopping for a new bike. For my first BWR in 2016, I went to NAHBS to select a special gravel steed in a relatively new genre of bikes. I ordered a custom Mosaic GT-1with electronic shifting, but due to a slight snafu, I literally picked it up at the BWR expo the night before the event.  After the first dirt sector, my water bottle cages nearly fell off, but luckily I happened to see my long time friend, Karla Preece, and she fixed me up with a tool and big hug! I definitely wouldn't recommend riding a bike for the first time on your first BWR! Back then I really didn't know much about tire choice or optimizing tire pressure, but that's part of what makes it so captivating, to learn about equipment, broaden riding skills, and hope it all comes together. Fast forward to 2019 and my 3rd BWR, I upgraded to a Specialized Roubaix with 32mm slick tires at 45psi. This year I'm considering riding my disc brake road bike… and maybe even lower tire pressure.  Whatever set up you choose, most riders should err for safety over speed. I am a big proponent of disc brakes, tubeless wheels, lower tire pressures and riding LOTS of DIRT!!
Ryan: I'll be racing my Full Suspension Scot Spark RC WC on 2.2 Continentals, with gearing of 38 x 10-50. I'm fully aware that this is the completely wrong tool for the job, however, you have created a special category to honor Kevin Lentz. Kevin was a father, a husband, a talented cyclist, a great human, and a friend, who was tragically killed by a motorist in 2019. Kevin could always be found riding his MTB on the toughest trails with a smile, and was an absolute beast on the bike, hence the category tribute.