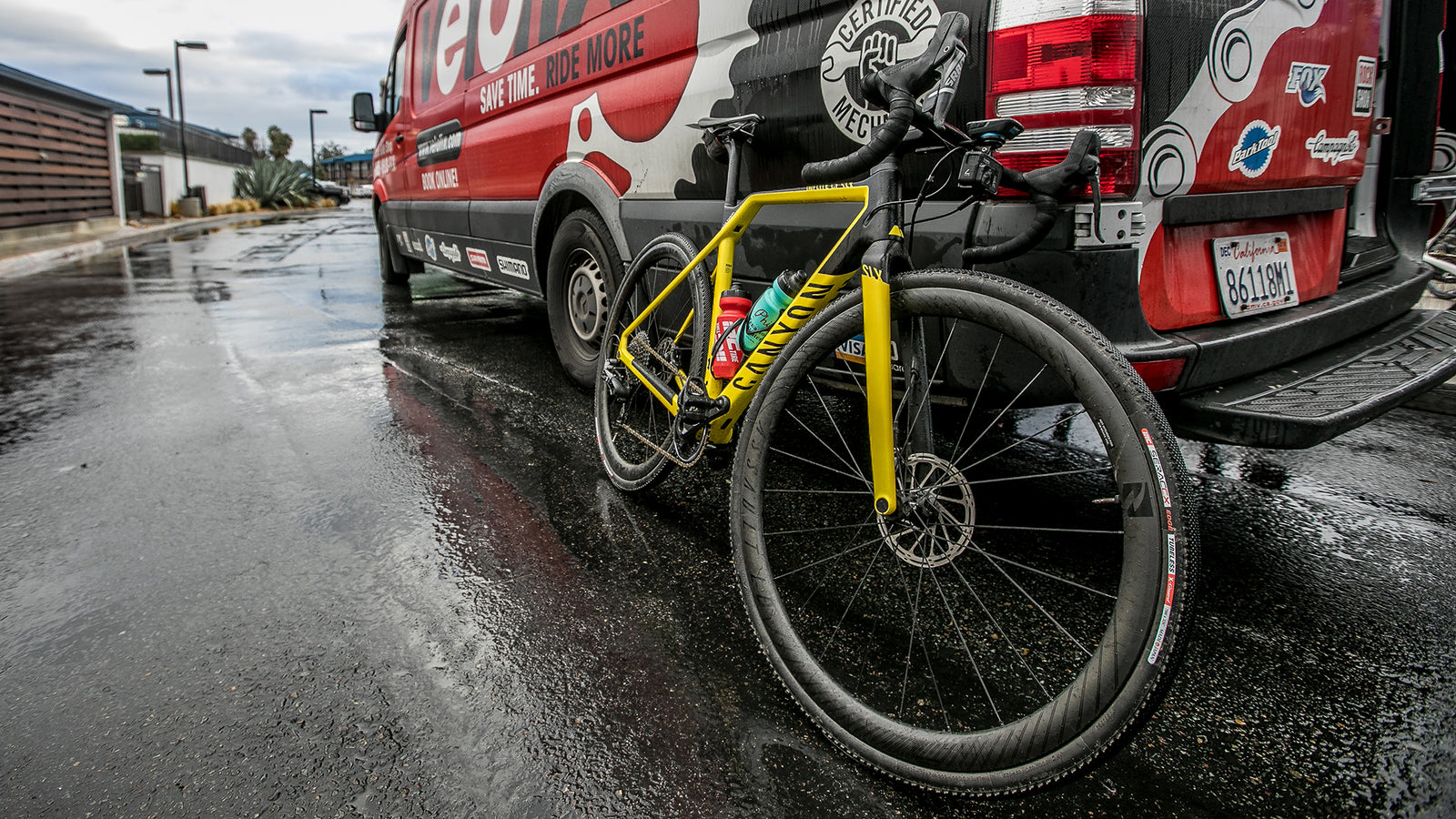 "When it comes to gravel, play it as it lies" - Joseph Schmalz
Gravel bikes are not limited by any national governing body in any way. Therefore they are not restricted by any rules for equipment the likes of which are in the 49 page UCI equipment rules and regulations.
By any logical discussion, cycling is a "gear" oriented sport. Gravel events and gear choice is far more complicated than other disciplines.Cyclocross bikes only have one tire width available. Mountain bike courses have far less variability in that you build the bike for the extreme severity of a rad off-road course. But a gravel bike flirts with elements of road, CX and mountain bike courses. Once our bike has been fit to us with specifically chosen parts, we all put on the best clothing for the day's ride. We use a chosen selection of gearing for the terrain on the wheels we want and we choose a certain tire with specific attributes and put our selected amount of pressure in it. You get the point. Equipment and gear are a primary drivers of readership and has provided for countless tech articles, podcasts, Instagram posts and employed numerous product testers and reviewers.
For all the talk of the importance of equipment choice in cycling, gravel events are truly the tip of the spear of gear choice and innovation. Gravel events are all wildly different. Each one varies in topography, road conditions, trail conditions, support, weather, etc. The event conditions and course present the "problem" that each athlete needs to solve. Unlike a sanctioned race which restricts equipment allowed into the race. Gravel events allow and encourage each individual to utilize any innovation and any equipment available to solve the problem. 
Okay circling back, what is it that we as consumers really want out of our bikes? Cycling consumers want a bike that can meet the demands of their adventures in the simplest possible way. A few years ago, we were led to believe that road bikes are for road, cyclocross bikes are for tame off-road, endurance bikes are for slower all-day rides, and aero bikes are for racers. But when your weekend adventure involves riding all of the above, what are you to do?
I've thought a great deal about this over many rides and a few beers with friends and I believe that my everything-bike of choice can really do everything I want while sacrificing nothing. The gravel bike is the best bike for me and for the reasons I'll discuss.While it may not be the best bike for you, at least I hope to introduce you to a different thought process about how to choose your bike and to help you break the constructs of what your bike is and should be.  
 Wheels: Enve G23 and Enve AR wheelsets. The G23 is the flagship gravel wheelset worldwide. They're light at 1300g for the set. Gravel is slower and epic events usually have a good deal of vertical elevation where a premium is placed on lightness. Aerodynamics aren't as important until you reach speeds over 15mph which I don't do much on climbs. For a more tarmac intensive event I'll ride the Enve AR wheels because the aerodynamics (also the winner of the 2019 Dirty Kanza 200) are definitely an advantage with road tires. Yes, Enve wheels are expensive but this is basically my dream bike so I'm splurging.  Enve also has their Incident Protection Program, which adds an enormous amount of value to their hardware.  In addition, I'm only using one bike, so instead of purchasing two bikes I'm only building one bike with two awesome wheelsets so I'm rationalizing it that way.
Tires: I've always been one for finding a good brand and sticking with them.In many cases, the product is good but the brand is amazing in equal part because of the people that work there. IRC Tires hits the mark on everything. They partner with elite road teams like Marc Pro and they are also fully committed to the gravel scene as evidenced by their presence in the Belgian Waffle Ride and Dirty Kanza 200.
On gravel, I ride the Boken 40c tires. When doing a mixed surface event I usually choose the Serac Sand or Serac Sand CX in the 32c width and for the road I'll be on the 28c Formula Pro Tubeless. All the tires are tubeless. Just like we saw in the Tour de France, tubeless tires are here and they're going to rule road bikes soon. Also, 28-30c tires are going to be the standard road bike tire soon.Get used to wider.
Drivetrain: SRAM AXS Red eTap.If I'm going to go all-in on a new bike, it's going to be a modern new bike.The 12s group is refined and works as well as any electronic system out there but without the hassle of pesky wires.Once upon a time 1x was the answer to reliability on choppy surface, chain slap, and derailment. This system gained popularity in cyclocross and has been used in gravel because there simply wasn't a better option.It worked well in cyclocross because there wasn't a need for a wide range of gearing.The sacrifice is reliability for gear range or gear jumps and a need to change chainrings for each event you start.
We've seen the 1x drivetrain attempted and failed in everyday use on a few occasions.The first was the Specialized Allez (aluminum) that was originally built without a front derailleur then retrofit with one to allow a 2x solution.Then, a few years later, the now defunct UCI Aqua Blue team tried racing an aero 3T road bike with only a 1x option throughout an entire European UCI calendar.They experienced nothing but frustration and the team didn't make it through the season before folding.   
With the SRAM AXS groups, the 1x compromises are no longer needed and the 2x accomplishes the stability and reliability seen in the 1x group. The 2x group gives you all the gearing relevant for a fast road ride or even racing and supports the extreme gear range needed for an epic day on the gravel. The hydraulic clutch rear derailleur provides the chain tension under chaos and the hydraulic brake provide modern stopping power under any condition. I'll provide you a gear inch chart below for fun.
Pedals: Shimano ES600.Probably the best gravel pedal on the planet.Lighter than XTR and a fraction of the cost.Good clearance and single sided entry. Shimano really needs to rebrand this exact pedal as a GRX pedal.
Bottle Cages: Arundel Bando.Hydration is an amazing performance enhancer. Cages with full bottles in them are useful. Cages that let go of water bottles are useless and should be thrown in the trash.I've never once lost a bottle from an Arundel Bando bottle cage. Never.
I've chosen this bike with the goal of not having to change equipment for particular events other than wheels and occasionally tires. It drives as good as nearly any road bike and better than every gravel I've piloted. But the real take home here is that there's now a bike that can and will do everything you want it to. All you have to do is take a step back and look a bit.
About the Author:
Adam Mills has raced at the elite level since 2002 and graduated with a Masters Degree in Exercise Physiology from the University of Kansas in 2005. His true talent comes with his ability to combine his vast experience with his knowledge of sport. He is indeed a student of science, sport, athletic performance, strategy, and tactics. He continuously educates himself by keeping up to date with current research trends and methods in sport and his clients have reaped the benefits from this work with over 17 national championships in 11 disciplines on two continents. Adam is able to incorporate these attributes on a daily basis to help his clients reach and exceed their goals whether they are a beginner or a seasoned professional. Learn more about Adam and Source Endurance here.