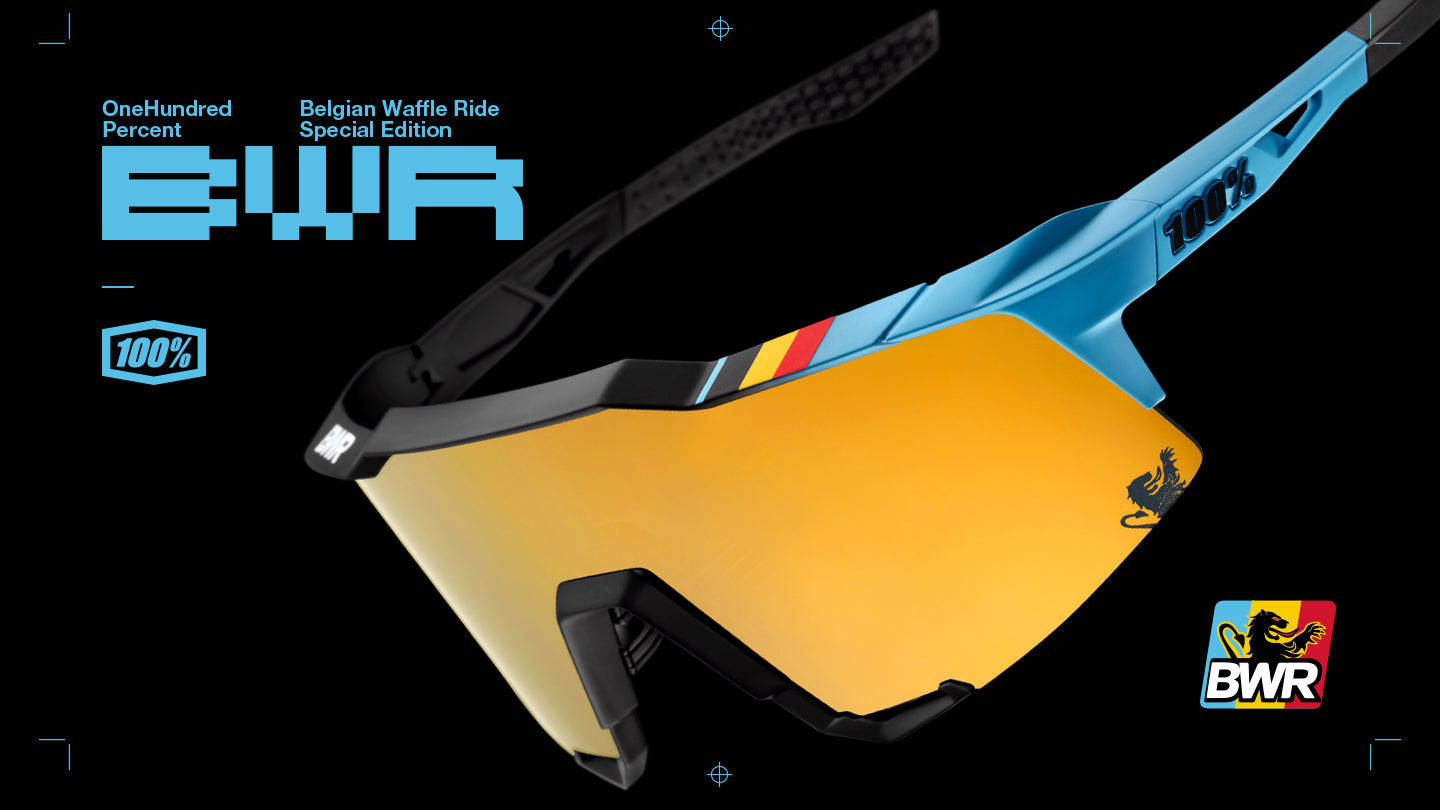 100%® AND BELGIAN WAFFLE RIDE JOIN FORCES TO CREATE THE ULTIMATE EYEWEAR FOR GRAVEL 
The world's premier sports performance eyewear brand and the biggest event in gravel collaborate to design sunglasses for the most punishing event in cycling. 
SAN DIEGO, Calif. – June 10, 2020 – 100% has announced a new partnership with Belgian Waffle Ride (BWR). The two iconic endurance brands have collaborated to design sunglasses able to take on the harsh and punishing conditions of the most treacherous gravel races on earth. TheBWR Special Edition sunglasses are available in the most popular 100% sports performance styles, includingSpeedcraft,S2,S3, as well as the Active Performance sunglass,Hudson, for post-race recovery.  All styles feature the iconic colorways of Belgium--red, yellow, and the baby blue that is often used in Belgian national team jerseys. 
"The Belgian Waffle Ride is one of the most progressive events in cycling, and it reflects the changing dynamic of cyclists worldwide," says 100% CEO Ludo Boinnard. "Cyclists are seeking adventure, and new places to ride. With our new BWR Special Edition, we want to give those riders the equipment they need to ride more extreme."
TheBelgian Waffle Ride is the most unique cycling event in America and has become a worldwide phenomenon. Now in its ninth year, BWR has expanded to three events that represent the triple crown of gravel racing. The San Diego BWR is the largest of its kind, with 4,000 racers ready to take part this year. This year, BWR has expanded to include two new venues in Asheville, N.C., and Cedar City, Utah—which will compromise the inaugural Triple Crown of gravel. Each event will be roughly 138 miles, with plenty of rocks, gravel, water crossings, sand—and everything else that makes riding a bike really hard.  
"As someone who appreciates fine eyewear—especially on the bike—I'm thrilled to collaborate with 100%," said BWR Founder Michael Marckx. "The four styles in the classic BWR colors blend unmatched style with cutting edge technology to deliver a pair of shades that can take on any challenge—and look good doing it."
For more information about 100% products and athletes, visit us online at 100Percent.com. 
 About 100%®: 
100%, based in San Diego, California, is an independent premium sports brand with a focus in performance eyewear, technical apparel and sports protection. 100% empowers today's most demanding athletes with the performance technologies and gear they need to compete at the top of a wide variety of sports. 
100% is inspiring a new generation of athletes and asking them: "How much effort do you give?" The 100% brand boasts an impressive roster of athletes include seven-time Tour de France green jersey winner and three-time road cycling world champ Peter Sagan, reigning AMA Supercross champion Cooper Webb, three-time downhill mountain biking world champion Sam Hill, UCI cross-country mountain bike world and European champ Jolanda Neff, Brazilian ultra-running phenom Fernanda Maciel, four-time and reigning UCI downhill world champ Loïc Bruni, 2013 Ironman world champion Frederik Van Lierde, 2019 MLB rookie of the year Pete Alonso and San Diego Padres star shortstop Fernando Tatis Jr. Follow us on
Facebook
,
Twitter
and
Instagram
. 
www.100percent.com
BWR Triple Crown races: 
The Hook: Ashville, N.C. (August 30, 2020)
The Claw: Cedar City, Utah (Oct. 17, 2020)
The Lion: San Diego, Calif. (Nov. 8, 2020)