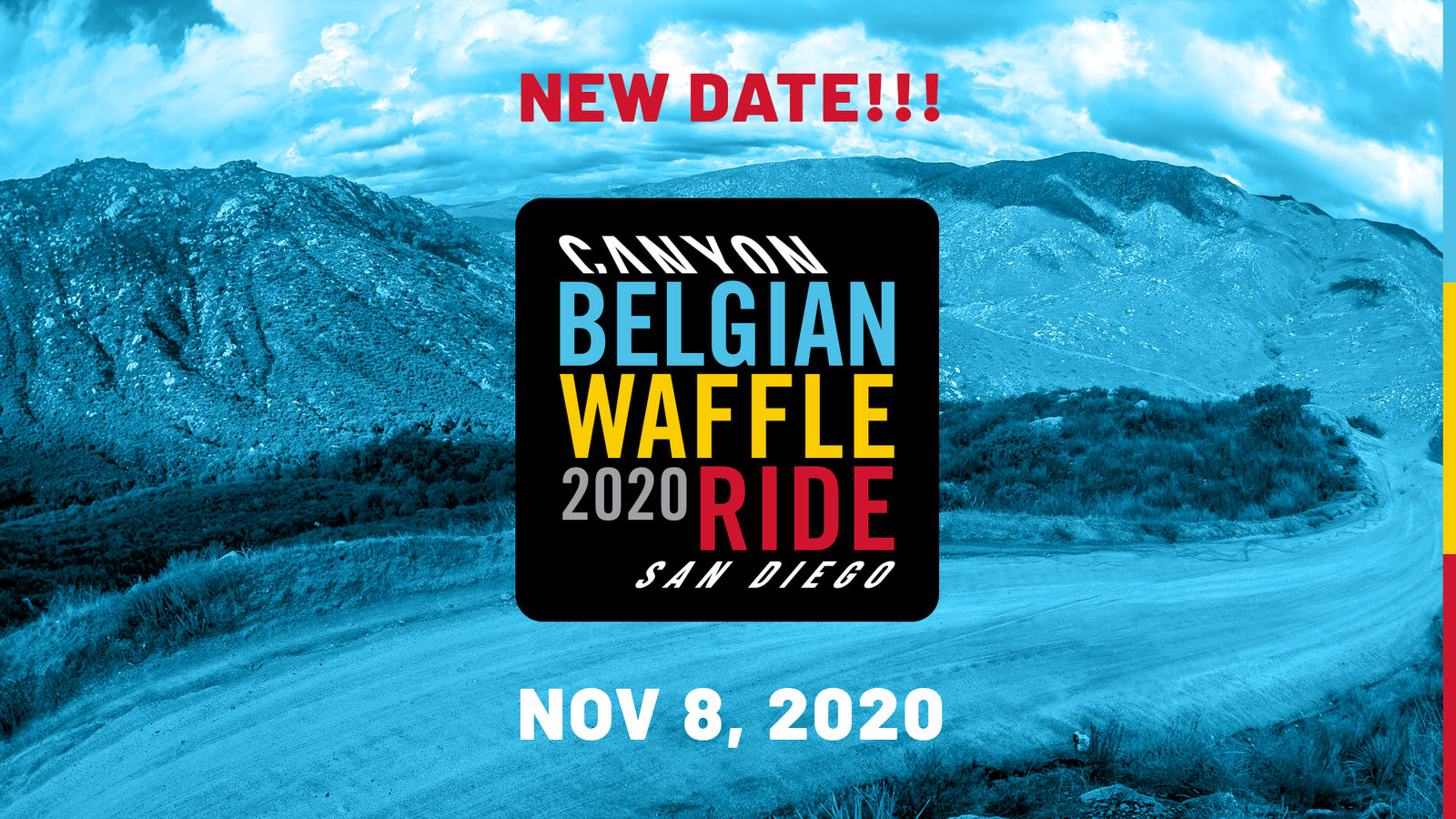 Dear Waffle Lovers:
It's only been a handful of days since we last emailed regarding the Coronavirus, but so much has transpired since then. So much, in fact, we feel compelled to circle back on the subject,
NOW.
Yes, the situation has escalated so rapidly that we've had to sadly override our optimism for the May 3rd event happening as scheduled. With the Coronavirus pandemic, events like ours are being forced to postpone (or cancel). As a result, 
we will be moving the Canyon Belgian Waffle Ride to its new fall date of November 8, 2020… with the same (or larger) Pure Cycling Expo and VIP/Media events running from November 6 – 8, 2020.
Registered riders for the Canyon BWR and related events will be automatically transferred to the November 8 event. For those that cannot make the new date, we are offering deferrals into one of the other Tripel Crown of Gravel events: Asheville, NC BWR on August 30, 2020 and Cedar City, UT on October 17, 2020. We will also provide deferrals into the 2021 Canyon BWR, which will be held May 2 in San Diego. The Tripel Crown now will run entirely in 2020 with the Grand Finale being the November 8 event in San Diego. 
In short, riders can:
Stay Registered for the Nov 8th San Diego BWR
Transfer to the Asheville BWR Aug 30th
Transfer to the Cedar City BWR Oct 17th
Transfer to the San Diego BWR May 2nd (2021)
You have until July 1, 2020 to designate which option you prefer or you will automatically remain registered for the Nov. 8 event! All of this can be easily managed on the Events.com page. See below for instructions...

We're just as sad as you are, but we want to give you as much advanced notice as possible. Our goal remains the same: Give riders, both professional and amateur, the most unique cycling event in the country—one that captures their imaginations from the day they register to the moment they cross that daunting finish line. We know we can only accomplish this by offering an environment that ensures your safety and that of the communities and businesses that host our events.

We hope in this time of unprecedented tumult having a new shinny date on the horizon will make its arrival all the more attractive… a symbol of the better times we will share on the other side of all this.

We would be remiss in our duty if we didn't take this brief moment to share our support for the measures our local and state governments are putting in place, which include seemingly drastic mandates of self-quarantining, plus restaurant, school and business closures. But these measures will most certainly be important to the 'flattening of the curve' and saving of many, many lives. Obviously, large and small gatherings are being banned based on how widespread the virus is, not to mention just how easily transmittable it is. Covid-19 can be spread by people who don't even know they have it… and thus the need for ALL OF US to take these precautions seriously. 

With all this in mind, let's think of positive ways to support our local breweries, restaurants, bike shops and bars as we move through the next many weeks. We are all in this together.

Lastly, we thank everyone who shared his or her views on reimagining the Canyon BWR as a fall event this year. We look forward to delivering the greatest cycling event in the country then; bringing riders, fans, media and the industry together in a showcase that will shine a spotlight on what the future of cycling will look like...

Dank U,
The BWR Crew