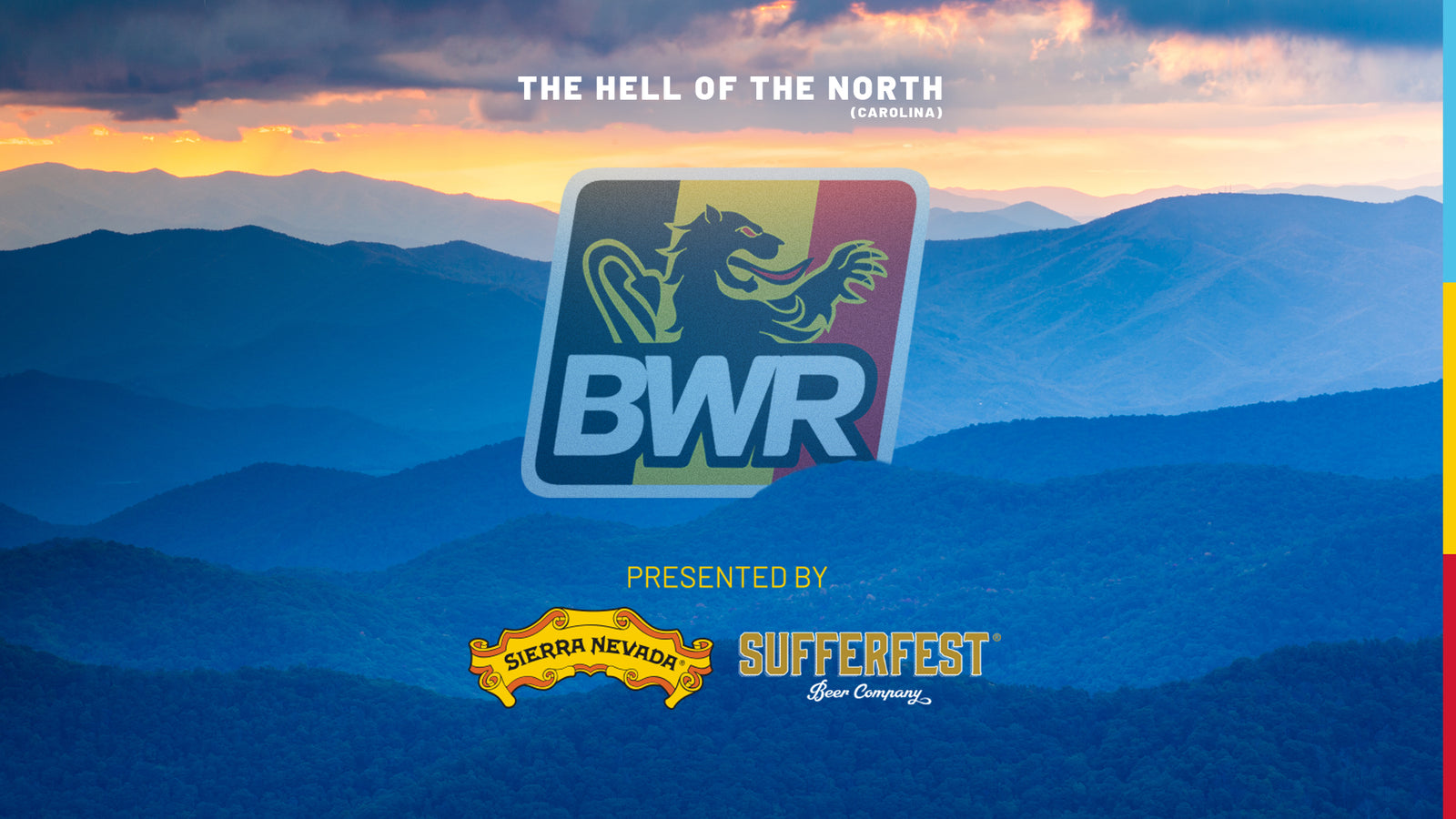 SIERRA NEVADA BREWING CO., SUFFERFEST BEER CO. & MONUMENTS OF CYCLING ANNOUNCE NEW CYCLING EVENT IN ASHEVILLE! 
CANYON BELGIAN WAFFLE RIDE TO BE HOSTED BY SIERRA NEVADA BREWING CO.
San Diego, CA // Asheville, NC - (March, 2020) – Monuments of Cycling, a premier cycling events producer, has partnered with Sierra Nevada Brewing Co. and Sufferfest Beer Co. to host the inaugural Canyon Belgian Waffle Ride from Sierra Nevada's iconic Mills River brewery located just outside of Asheville, NC.
Monuments of Cycling, best known for putting on the Canyon Belgian Waffle Ride—one of the most unique cycling events in the United States—is excitedly preparing the final details of BWR Asheville, NC, scheduled for August 30, 2020.
For the first time, the iconic BWR will be staged outside of California in Asheville, NC. The BWR will provide professional and amateur cyclists the opportunity to ride the most coveted roads and off-road sectors throughout the Asheville region over a 144-mile route punctuated by 24 off-road sectors that give the event its unique complexion.
Created as an extremely challenging race in the spirit of the great European one-day Spring Classics, BWR, with a Belgique theme, is truly a unique event. There will be two distances on offer in Asheville, the longer Waffle event and the half-as-long Wafer event, for those looking to get a taste of the fun without the training commitment of the Waffle.
The BWR will be offering a prize purse to the top five riders, both female and male! Last year the San Diego BWR female participation exploded and all the event stakeholders want to keep that growth going across the board.
This inaugural BWR Asheville event will have a deep field of professional riders and an expansive list of hungry amateur riders drawn to the unparalleled opportunity to race alongside their heroes, like World Tour rider, Peter Stetina, who won the 2019 San Diego edition. Racers and event patrons will be treated to Belgian waffles, Sierra Nevada and Sufferfest beer, more waffles and more beer on race day. The Waffle race itself promises plenty of punishment for entrants and their bicycles along a 144-mile course, which features more than 12,000 feet of undulating climbing and nearly 50-miles of off-road terrain that harken to the teeth-rattling cobblestones of Europe's most grueling races.
Prior to the event, there will be a special VIP event at Sierra Nevada on Friday, August 28. At this special event for the media, the 2020 BWR Feature Film will have its worldwide premiere, the course will be revealed in detail, there will special race-related presentations riders won't want to miss, the pros will be interviewed, and cyclists of all stripes will be able to rub shoulders with all the celebrities on hand for the epic weekend.
On Saturday and Sunday, the Expo will take place at Sierra Nevada's brewery in Mills River, which is a big draw on its own, promising to be the coolest cycling party of the year! Expo festivities kick off Saturday, August 29 at 10:00 a.m. and are open to the public. The Belgian theme will be in full force with a host of unique entertainment features. Attendees can peruse a wide range of offerings from event sponsors and over 40 vendors!
"We are so lucky to partner with our friends at Sierra Nevada, who will be hosting the ride start, its finish and the Expo," said Michael Marckx, BWR creator. "We look forward to partnering with a local non-profit organization to help support their philanthropic efforts in the area. I am excited to see our community of cyclists come together in such a flavorful way. As an American with Belgian heritage, the promise of waffles, frites, hard work, pain and responsibly consumed beer is just about the most perfect weekend I can imagine."
ABOUT MONUMENTS OF CYCLING
Monuments of Cycling is committed to delivering the most unique cycling events in the country, offering experiences for the most elite athletes on the planet as well as those in awe of them, through the creation of world class races that engage riders in myriad and unexpected ways. Our mission is to inspire riders of all stripes to reach, grow and aspire to new levels of fulfillment and joy, finding unusual ways to test their physical and mental fortitude. To learn more,
visit www.MonumentsofCycling.com.
Contact: Michael Marckx
mmx@MonumentsofCycling.com

ABOUT SIERRA NEVADA
Founded in 1980, Sierra Nevada Brewing Co. is one of America's premier craft breweries, highly regarded for using only the finest quality ingredients. The pioneering spirit that launched Sierra Nevada now spans both coasts with breweries in Chico, California and Mills River, North Carolina. Sierra Nevada has set the standard for craft brewers worldwide with innovations in the brewhouse as well as advances in sustainability. Sierra Nevada has set the standard for artisan brewers worldwide as a winner of numerous awards for a wide variety of beers and ales, including the legendary Pale Ale.
ABOUT SUFFERFEST BEER CO.
Sufferfest Beer Co. creates low-cal beer with high standards. Crafted for your lifestyle, Sufferfest includes ingredients like coconut water or black cherry currant to give you the flavor you deserve without the added calories. Whether you crushed it on the trails, had a big win at the office, or flexed your weekend warrior, you deserve a cold one. Go hard, have fun, and enjoy the sufferfest.