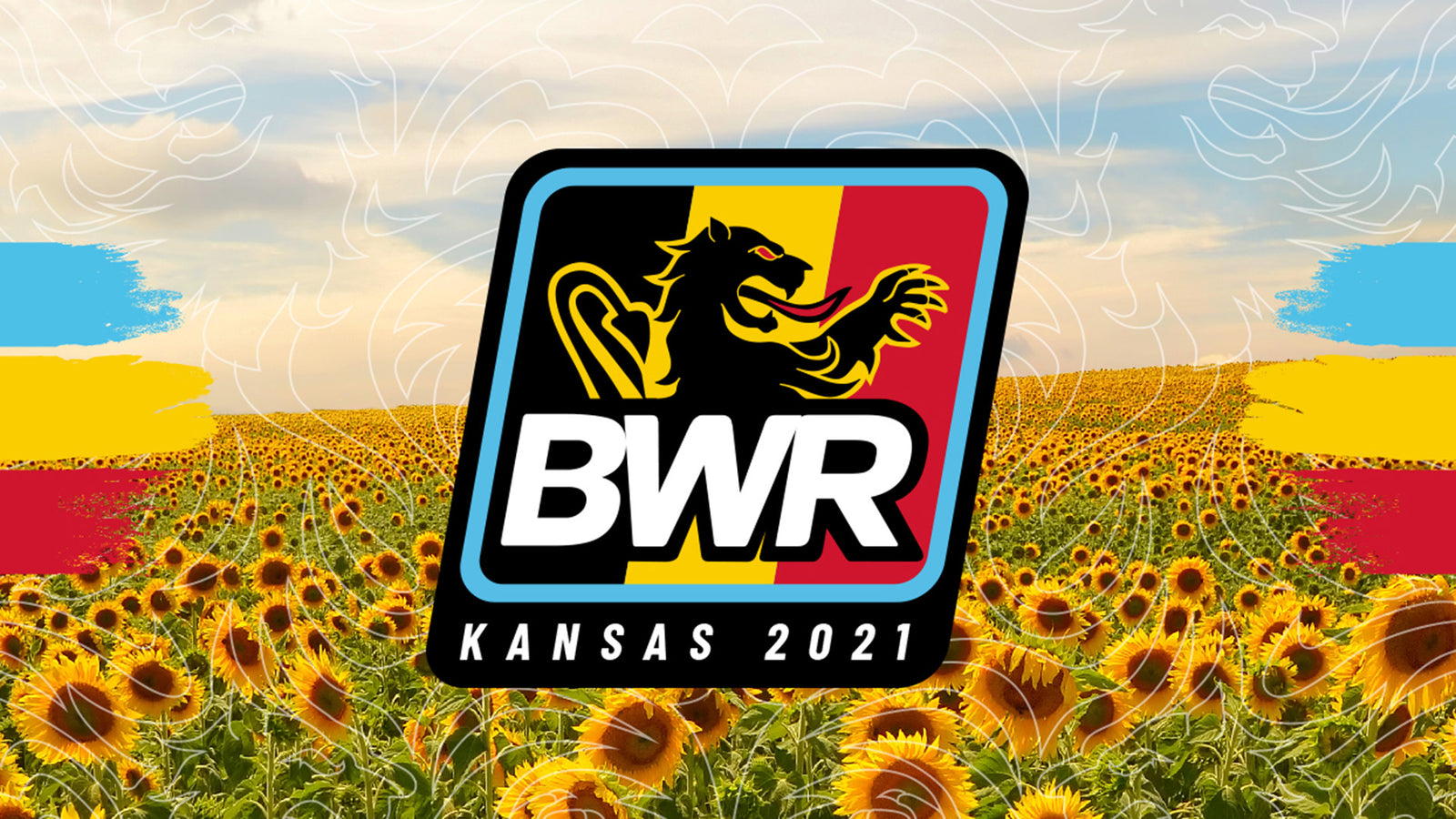 Dear Waffleurs:

We hope everyone has had a glorious week to reflect on their experience in LFK with Sunflower Outdoor and Bike Shop, The Steve Tilford Foundation, Monuments of Cycling and all the amazing local volunteers who made this inaugural BWR Kansas so special.

Personally, this event was a homecoming of sorts. My grandfather lived his entire life in Lawrence, went to KU and was a professional baseball player after college. I spent part of my summers here growing up and learning how to ride a bike in gravel (but only after sliding out and damaging a borrowed bike). I also learned to drive here, survived my first tornado, had my first crush, and even got to know one of KU's most famous athletes, Jim Ryun, after attending his running camp a few times when I was an aspiring high school runner. I was also lucky enough to race and share the podium with Steve Tilford, and share the stage with him at different point in my life. My, how much we and the world miss that man.

My fondness for this special place has only grown through the largess of its cycling denizens, most notably, Dan Hughes, Lawrence Mountain Bike Club, Joe Schmalz, Matt Gilhousen, A'laina Beckwith, Eric Struckhoff, Mike Logan, Chuck Magerl of Free State Brewing, and a host of local bike-minded people who opened their arms and community to us in meaningful ways. While I am at it, one of the things the BWR team the pride in is leaving the community cleaner than we arrived, but we never planned on having two individuals do what they did to make this happen. There were two riders who did the entire waffle course and cleaned up every wrapper and pieces of litter. These Local Legends, Tanner Tenbrink and Dallas McCarter, did that and more to make the sweep wagon that much more fun. I mean, come on, how cool is that?

The listing below is the majority of volunteers who made this event possible and this doesn't even include all the Sunflower employees who spent days working 12 hours or more to make sure everyone got what they needed or simply felt special.

And who could forget the Michael Franti concert and all the positive energy he injected into the weekend's vitality?

Special thanks to the Pure Gravel crew—Steve and Shelly Driscoll, along with Joy McCulloch—for their live coverage of both the men's and women's racing.

We are excited to share with you a variety of race recaps from interesting and talented people, including Molly Cameron (winner of the Wafer), Joy McCulloch (women's race correspondent), Tanner Ward (winner of the Waffle) and Matt Usborne (17th place in the Waffle).

Some of you may have heard of the issues with the marked course versus the GPS course, as a few riders toward the front took the GPS route and not the marked course we had advised to follow in the pre-race announcements, as the Jefferson County Emergency Service Agency made a last minute mandate for the course change, which created a slightly longer re-route. At the route change juncture, Matt Usborne and Tim Smith were up the road from the leaders by three minutes, following the marked course. The chasers, including Adam Roberge, took the wrong route and eventually came back on the new route in the wrong direction and encountered Tim and Matt coming at them the correct way. We turned those leaders around, so at that point everyone at the front was back together, but Adam and four other riders continued on the old route. As it tuns out, those 10 riders who turned around ended up with a slightly longer route... and the race went on and back over to the official route.

At the finish, Adam had protested this issue, but as it turned out, he had ended up doing a shorter route. In the emotional aftermath for him and others, there were some things said on social media that created an inaccurate narrative about the final results, which have all been cleared up and remedied. In fact, Adam has issued this statement in regard to all that transpired...
"I wanted to clear up some of my thoughts after last week's BWR Kansas. It was not my intention to offend or call-out anyone with my posts following the race. In fact, I want everyone to know that I have no issue with the riders that were awarded the podium. They are fantastic riders and well-deserving. I understand that prior to the race, the organization had to make a last-minute change to the course due to circumstances out of their control - which, as we all know, can happen due to the nature of gravel. This impacted my ride and other riders' ride, but I completely understand why these decisions had to be made. It is what it is. I have always had, and still have, an immense amount of respect for everybody involved with organizing, riding and covering BWR and I am grateful for their dedication to our sport. I look forward to racing future Belgian Waffles Rides and seeing everyone in 2022!" - Adam Roberge
As a result of local county officials making last minute course mandates, we will not be sending out any course links until the night before.
In case you missed some of the news that came out about and around the BWR KS, here are few:
https://www.velonews.com/gallery/bwr-kansas-gallery-from-boba-fett-and-barriers-to-remco-and-horned-tandem-riders/
https://www.velonews.com/news/gravel/what-tiffany-cromwell-tanner-ward-and-others-said-about-bwr-kansas/
https://www.velonews.com/news/gravel/remco-evenepoel-floyd-landis-tiffany-cromwell-adam-roberge-among-starters-for-bwr-kansas/
https://www.velonews.com/news/gravel/remco-evenepoel-on-gravel-this-year-to-enjoy-maybe-next-year-we-race/
https://www.cyclingnews.com/news/cromwell-wins-final-belgian-waffle-ride-in-kansas-gallery/
https://www.velonews.com/news/gravel/calendars-out-its-time-to-sign-up-for-2022-gravel/
THANK YOU TO ALL THESE WONDERFUL VOLUNTEERS
Chuck Magerl – Free State Brewing Co.
Kansas Trails Council – Kevin Otterman and Dave Brackey
Lawrence Mountain Bike Club – Samantha Walker Jones, Danny Noble and crew
Leavenworth County, KS – Joshua Gentzler, planner
Jefferson County, KS
Keith Jeffers, emergency mgmt. director
Jeff Herrig, sheriff
Erin George, planner
City of Oskaloosa, KS
Eric Hull, Mayor
Paul Bolinger, Chief of Police
Douglas County, KS – Capt. Dan O'Hare, Douglas County Sheriff's office
Dewey Noles – US Army Corps of Engineers, Lake Perry Project and Aid Station 3
Curtis Martell – Wanna moto
Mike Logan – thegranada.com productions
Lt. Myrone Grady – Lawrence Police Dept.
Brad Shanks – Taco Zone
City of Lawrence
Mitchel and Shawna Campbell – Feed Zone 1
Oskaloosa HS – Feed Zone 2
Russell Wheeler – Feed Zone 4
Jefferson County Volunteer Fire Depts
Aagje Ashe
Renee Babin 
Lisa Ball 
Kasey Barton 
Iveta Becvarova
Amy Bryant
Allison Buchwach
Karis Buendia
Rayna Bush
Stefan Cerbin
Andi Christenson
Rich Cornell
Ronald Crawford
Kate Curl
Wyatt Davidson
Joe Douglas
John Douglas
Jenny Durkin
Megan Engleman
Mark Engleman
Becca Estanek
Victoria Friel
Meredith Fry
Angie Hagen
Gale Hellpap
Shari Hicks
Julie Higgins
Tanya Hoffman Stevens
Brooke Hopkins
Cheyanne Howard
Julie Howat
Maddie Huigens
Amy Ivancic
Marsha Jones
Nancy Kocour
Leonard Krishtalka
Lilli Linn
Scott Lyon
Peter M Williams
James MacMurray
Megan Maksimowicz
Marcos Markoulatos
Emily Markoulatos
Melisa Martin del Campo
Becky McClure
John McClure
Anna McGeary
Andrew Miller
Ted Moore
Brady Moore
Taylor Moore
Megan Moriarty
Marissa Naggi
Star Novak
Maribeth Orr
Kami Padilla
Leo Posch
Olivia Radosta
Carey Rainey
Mark Rainey
Jane Ramage
Trey Ratzlaff
Delaney Reynolds
Kate Riker
Lorie Sawyer
Kathryn Schartz
Jerry Schmalz
Mary Schmalz
Ian Silovsky
Janet Smalter
Stefanie Smith
Scott Stevens
Blair Sutton
MK Thompson
Brian Ubert
Blaine Van Hoosier
David Vance
Cathy Warren
Pamela Wilkins
Richard Wilkins
Brett Williams
Toni Wills
Elizabeth Zareh