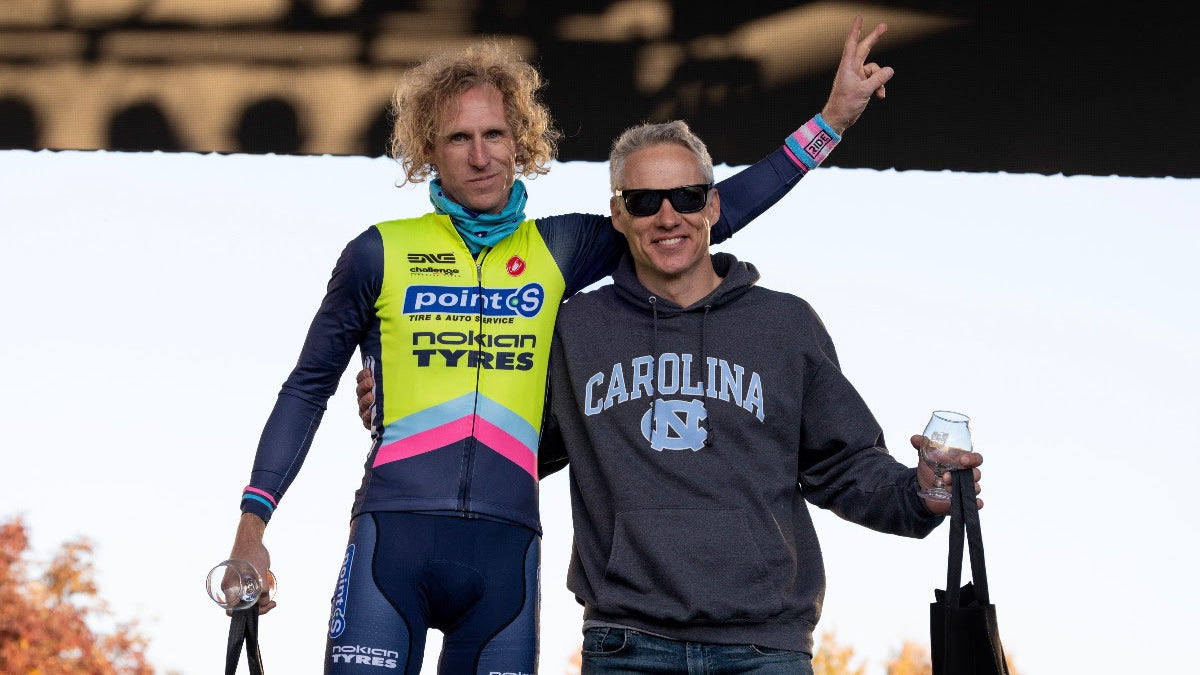 Molly Cameron is the founder of RIDE (riders inspiring diversity and equality), an organization that advocates for the LGBTQ+ community within the bicycling industry and sport.

A retail business owner, professional athlete, women's team manager, storyteller and strategist, she puts her decades of outdoor industry leadership experience and sporting authenticity to work as Shimano Corporations' Diversity and Inclusion consultant.

Her work with RIDE is focused on driving positive cultural change in business and sport through education, consultation and critical assessment of business and sporting operations. Working globally with brands, events, NGO's, politicians and non-endemic partners, she guides decision makers and their organizations forward in an informed and empathetic method, helping them broaden their understanding of the needs and experiences of marginalized communities to implement truly inclusive policy and practices.
Molly Cameron won the overall Wafer Ride with an impressive three minute victory over second place, Ben Delaney!
It will be difficult to briefly sum up my entire experience at The Belgian Waffle Ride and my first time in Lawrence Kansas. There were far too many experiences and emotions packed into too few days!

What started off with the Steve Tilford Foundation fundraiser celebration and an intimate dive into how deeply Tilly was a fundamental piece of the fabric of the midwest cycling community, being there in Sunflower Outdoor and Bike Shop for the first time and talking with the dozens (hundreds) of people who he has touched throughout his life and racing career, then partying with Michael Franti and Tiffany Cromwell and Valterri Bottas and literally seeing tears in people's eyes Friday night... It feels a little self-indulgent for me to consider writing a simple race report about BWR Kansas.

The truth is: the racing was effing hard and took both body and bicycle to the limit. I was completely under-prepared and there were much younger and far more talented athletes in my race that coulda-shoulda-woulda won but! ...I channeled Tilly's spirit out there and played the cards I was dealt; racing with experience and tactics versus the talent and youth. At the end of the day, it paid off in a victory.

Steve Tilford was one of the few professional riders that would actually say more than two words to me at the bike races when I first became a pro. And that was something that stuck with me. Steve didn't care who you were or what you looked like when you were out there racing against him, and after banging handlebars over the years we developed mutual respect. I'm not gonna say that Tilly completely understood my identity and my background but he was the type of person that didn't care too much about what you looked like or where you were from or what your name was; when the gun went off we were there to race our bikes and do our jobs and when we crossed the finish line he was always ready to trade racing stories and criticize each other's technique and tactics.

There is a lot of talk about diversity and inclusion in cycling. And I can tell you that as a transgender woman who often competes in what are currently called "men's" category races, I continue to deal with hassles and having to jump through hoops and do a bunch of extra work just to race my damn bike!

So to wrap up the gravel season with a win at Belgian waffle Ride in Kansas was beyond my wildest dreams for this season. But still after decades in world level professional bike racing, I have to see my gender being listed incorrectly in results and in the media and I have to continually pester event promoters and results people and race officials to correct my identity and my results and well... we have a lot of work to do in the cycling community and so damn far to go to make cycling truly welcoming and inclusive for all people.

This is just the tip of the iceberg of the work I am doing with RIDE (riders inspiring diversity and equality) and the work I am doing with the Belgian Waffle Ride race organization and within the bicycling industry and sport. For now, I'll savor this victory and use the momentum to drive the larger conversation and continue to advocate for all marginalized communities within bicycling. We want to see more women, more people of color, more indigenous people and more people from LGBTQ+ communities showing up and participating and I am working with organizations like BWR and the Steve Tilford Foundation to implement these positive changes.

I am already looking forward to the next BWR season and, as I continue on to finish up racing the rest of UCI Cyclocross season and the Cyclocross National Championships, I will remember my time in Lawrence Kansas very, very fondly and I can't wait to get back for more!
Molly and RIDE can be reached at any of the below:

molly@ridegroup.org
Molly Cameron
she/her
RIDE
riders inspiring diversity and equality
RIDEGROUP.ORG

Point S Auto presented by Nokian Tyres
Portland Sports Group LLC
Relationships / Content Marketing / Strategy
::: social :::
@TheMollyCameron
@RIDE_GROUP
@PointSNokian
@PortlandBicycleStudio

::: video :::
Sports Group Youtube
Molly Cameron Youtube